This card is gorgeous and the 3D effect with markers used makes it POP!
This card is such a great example of how to create a realistic 3D effect with markers and it's actually really easy to do! Let's see how Annie combined a pretty one layer bouquet with a eye bending 3D effect to make a card that you can't stop looking at!
First, Annie stamped the bouquet of flowers from our Summer Bouquet stamp set onto who card stock using Color Fuse Ink in shade that feel like the start of Fall – Grass, Custard and Apricot. Annie then fussy cut this out leaving a tiny white border around her stamped images to both allow this to pop out from the background and to echo the white in between the stamped images. This creates a pretty, unified look and almost gives a one layer image a "halo", giving it some depth on its own.
Next, she used our Watering Cans dies and cut out the shapes from white card stock, saving the extras with the die for future use. Now here's the magic! Using her favorite shades of gray Copics, Annie colored her watering can pieces, layering the colors with the darkest at the outside edges to very pale in the center. Keep layering your colors, adding intense shading at the edges. Any areas that would be "up" from the base – like those ridges around the watering can – stay light, emphasizing the contrast even more.
When you think you are done, walk away for a minute – refill your beverage – and come back and take another look to see if you can/want to add even more shadow at the very edges. Take your time and just keep adding layers of color. This is what gives that totally realistic 3D effect with markers alone – no paper shaping, no paper layers – just good old fashioned color! When she everything just right, she put her little watering can – that you would honestly think was a 3D element! – together with some liquid glue.
Now she made her background. She applied Whisper Color Fuse all over our Wood Grain Fence background stamp and stamped it onto some soft aqua card stock. She cut that piece out with the largest die from our Nested Deckle Rectangle die set, one of our customer-favorite sets. People just love "our" deckle because they say it gives just enough texture to mix into any style but never looks messy like some finer deckle edges can.
For the last element, Annie stamped a sentiment from our Best Friends Etc. set onto a scrap of white card stock with the same Whisper Color Fuse and trimmed it into a tidy rectangle.
Now she put it all together! She adhered her background panel to a white card base with her tape runner and attached her bouquet to the back of her watering can with liquid glue – easy since despite how it looks, the watering can is flat! Then she added foam squares behind the bouquet, the watering can and her sentiment and added them to her background. A few iridescent gems and this beautiful card was ready to send!
Here are the things you will want to add to your stash to make this card at home:|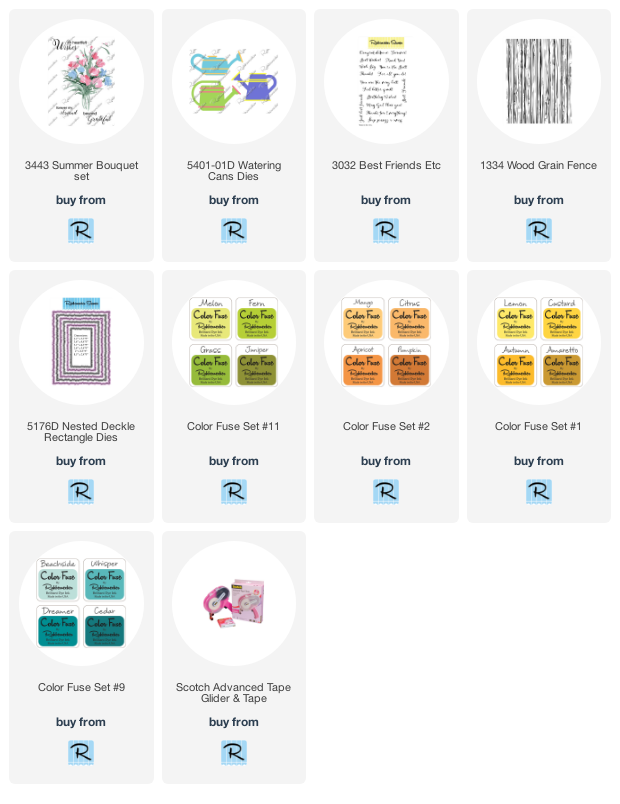 You can see that creating a stunning 3D effect with markers isn't difficult – just experiment, be patient and keep layering until you get the effect you like. We can't stop touching this card because we are so convinced that watering can is round! Imagine what your card getters will think!