Learn the two super simple steps to add shading to stamped images for TONS of depth and dimension!
When you add shading to stamped images, you immediately add depth and dimension to your projects. There are loads of ways to do this – colored pencils, coloring directly onto your stamps, water coloring, etc..
Today Lisa is showing us a very simple two step process – well, ONE additional step – that takes literally seconds and can completely change the look of your project. Let's dive in!
Lisa started with her foliage and this is where we learn this easy way to add that beautiful shading. Before we share this, know that using a stamp positioner will help you get stellar results. Good alignment is important here!
She stamped her first set of foliage stems with Whisper Color Fuse Ink from Set #9. Our Color Fuse Ink is ideal for this technique because we formulated the colors to work beautifully together both within each set and across the entire collection of color groups. You can see the vibrancy of this gorgeous color blue and you can also see how the image offers no dimension. Yet….
Now Lisa inked up that same stamp with our Clover Color Fuse from Set #10, inking ONLY around the edges. You can do this just by applying a corner of the handy sized cube to the edge of the stamp or, for a softer, more blended look, you can apply the ink with your favorite mini ink applicator tool. She then re-stamped. And VOILA!
Just look at all that added dimension!
Here's that magic again. First, Lisa stamped her second vine with Fern Color Fuse Ink from Set #11…..
And then re-stamped with Grass Color Fuse Ink (from the same set) applied around the edges of the stamp…
Can you believe that one simple extra step can add so much? Lisa's tip is to start with your lighter or brighter shade and then add your darker shade to add shading to stamped images that you want to have some dimension to create that depth on your cards.
While she was stamping, Lisa stamped a few additional vines in Cinnamon Color Fuse Ink from Set #3 and then fussy cut all her shapes. While Lisa says she loves to fussy cut you could also use an e-cutter with scanning.
Lisa took her brown stems and added some tiny white Nuvo Drops to the tips to create itty bitty berries and set them aside to dry while she created the rest of her card.
For her background, Lisa browsed her stash and found a panel she'd previously created with her gel plate using our Geometric Stencil #1 and some acrylic paint. She cut this with the largest of our Mini Slimline Tabbed Scallop Stitch set.
Lisa took that same die and laid it onto a piece of white card stock. Then she laid the second largest die from our Mini Slimline Nested With Stitch die inside. We designed these mini slimline dies to work together to give you TONS of creative opportunities so grab a couple/few sets and experiment! She ran this through her die cutting machine to create a gorgeous frame.
Lisa added that frame to her gel press panel with foam tape and then adhered that assembly to a piece of teal card stock cut to ⅛" larger than the frame set and then adhered that to a white panel ⅛" larger than the teal. The whole thing then got popped onto her mini slimline card base.
Lisa cut one of our Garden Pots from the same teal card stock and added it inside her frame with dimensional adhesive, leaving the top open to tuck in her foliage.
She then added her gorgeous dimensional vine to her card just like she would arrange flowers in a vase, tucking and trimming and adhering with liquid glue to give her some wiggle time to get things just so.
For her sentiment, Lisa stamped one of the greetings from our Birthday Vase set onto vellum with Versamark and heat embossed with white powder. She trimmed this nice and close and then added it above her pot of stems with clear dimensional adhesive.
Just gorgeous! Here are the additional things from our store that Lisa used today: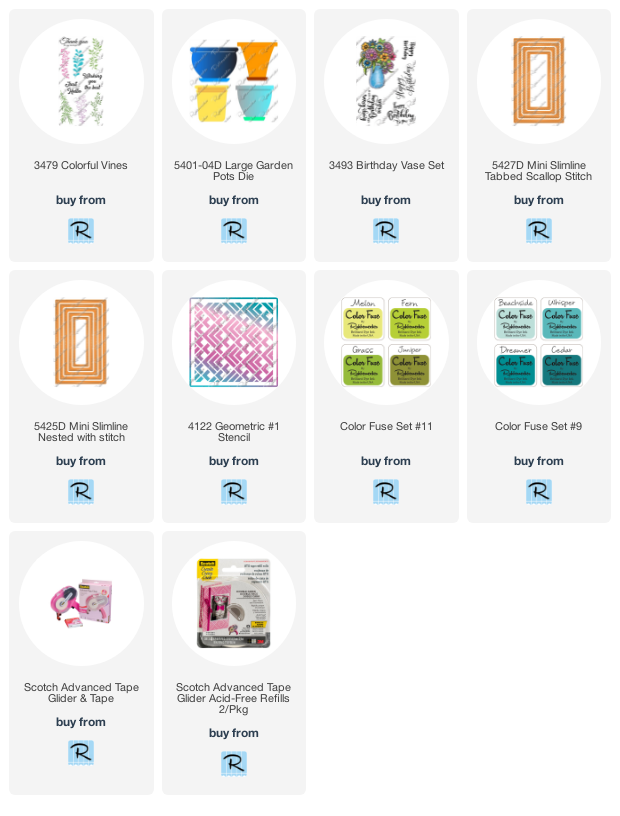 .
You can really see how using this quick and easy way to add shading to stamped images gives tons of shadows, color, depth, dimension – All The Things! Try it out with all kinds of stamps and watch how your images come to life!