What does mixed media mean when you are talking card making? Answer here!
Recently we shared a lovely mixed media card and free tutorial video and we did have someone ask "But what does 'mixed media' mean?". Today we are going to answer that question and share another fabulous card using this easy and fun method of creating art.
The term "mixed media" simply means "the use of a variety of media in an entertainment or work of art". In card making it's even simpler – it means that more than one type of media – ink, paint, paste, embossing, ink sprays, etc. was used. Now, if you ask us that means MOST cards are "mixed media"; when was the last time you only used only one of card making element? In today's lingo, mixed media usually refers to the use of two or more different methods of adding color and/or texture to a card.
Today, Melinda is sharing her latest mixed media collage card which makes great use of one of our just-released stamp sets, a pretty twist on watercoloring and simple layering. Shall we take a look?
Melinda started with a piece of watercolor paper cut to 3 ¾" X 5″ and stamped the honeycomb from our new Distress Background Strips set with Versamark, which she then heat embossed with white powder to do some emboss resist coloring.
She did that by watering down some blue ink and washed it over the embossed area, letting each application dry before reapplying for visible layers of color.
When this was completely dry, Melinda stamped randomly on the panel with our French Script background which she partially inked up with Pumpkin Color Fuse Ink from Set #2. She then splattered some gold ink over the entire panel and when it was completely dry, tore off the opposite corners.

Now she cut a piece of patterned paper with the largest die from our Nested Rectangle With Pierce set and then adhered her water colored panel to that die cut with her tape runner.
Using our Wildlife die set, Melinda cut a scrap of brown patterned paper and then cut a circle from a scrap of watercolor paper. She stamped the circle die cut with the same honeycomb stamp and some gold pigment ink. After letting that dry completely, she adhered her die cut bear over the circle, letting him hang off the edge a bit.
Melinda then adhered the circle to the panel with dimensional adhesive, adding some gold thread behind it before sticking it down.
Using our Shadow Words Set, Melinda stamped out her sentiment. She says "Don't worry if it's not perfect – any little oopsies TOTALLY fit the style!". She adhered her sentiment onto the circle and accented the words with some tiny black gems.
So fun, yes? Here are the rest of the items Melinda used today: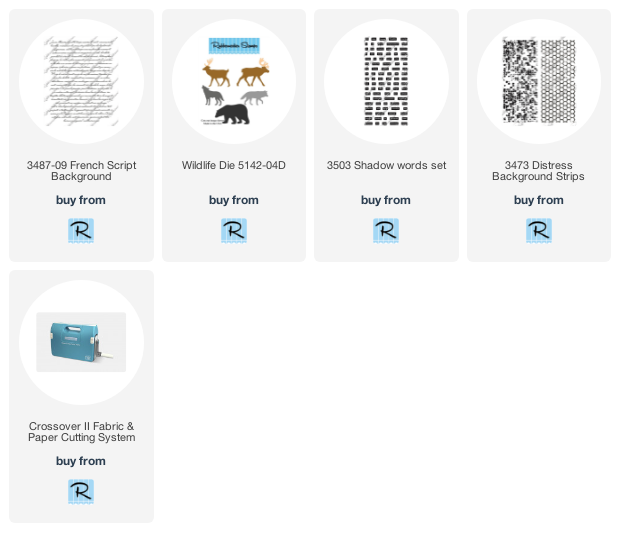 Now when someone asks what does mixed media mean anyway, you will have the answer AND some knowledge on how to use your own goodies to try this out. Remember, it's just the use of two or more different fun color, texture or visual interest methods on a card that make it mixed media – we are betting you are already halfway there!