Make an easy mixed media card using some basic supplies from our store!
Mixed media cards are always popular and while some are made with boatloads of different types of supplies, today's easy mixed media card uses some things you might already have on hand! And just look at how absolutely gorgeous it is!
Colleen said she "was inspired to create a mixed media card because of the awesome new and creative products that have been released this month". So she created a four layer card using some basic techniques in combination to make a card that is anything but "basic". Want to see how it was done? You are in luck – Colleen made us a video showing the making in action. Let's watch!
For those of you who prefer to read than watch, here you go!
Colleen started by applying her choices of Color Fuse inks onto a glass media mat. She gave them a spritz with some water and then pressed a piece of watercolor paper cut to card panel size over the ink. She dried it with her heat tool and repeated the process until she had something she loved. She set that aside to fully dry.
While that piece was drying,Colleen stamped the outline layer of our Lotus stamp with Versamark onto white card stock card panel and heat embossed with gold powder. She then inked up the center portion of the stamp with Fuchsia Color Fuse ink (from Set #5) and Clover Color Fuse ink (from Set #10) and stamped over the embossed outline. She then fussy cut that flower out with her paper snips and set that aside.
For the individual elements to her sentiment, Colleen stamped "and", "create", "wonderful", and "memories" from our new Shadow Words stamp set with black ink on scraps of white card stock. She then trimmed each word to a very close rectangle, leaving a narrow white border and added these to her parts and pieces pile.
Next, Colleen blended Grass Color Fuse ink (from Set #11) through our Leaf Stencil over her inked up panel to add a delicious layer of color and dimension. For even more dimension, texture and light reflection, Colleen made use of our new Distressed Background Strips stamp set (link and image coming soon!). She stamped the honeycomb strip over the right hand side with Versamark, heat embossing with gold powder and the tiny blocks strip over the left hand side with Sapphire Color Fuse ink (from Set #8). She then splattered a little Sapphire Color Fuse over the whole thing for that barely distressed vibe.
For her next component, Colleen stamped our Believe Collage stamp in black ink onto white card stock. She tore the edges on each side to enhance the distressed look and adhered it over her inked and embossed panel with her tape runner, allowing a hint of the background to show on the left.
She then adhered her Lotus to the right of the white strip, slightly overlapping and leaving space for her sentiment phrase to tumble down the side. She added her words to state her magical phrase and this easy mixed media card was ready to wow the ink off someone's fingers!
Here are the items Colleen used today: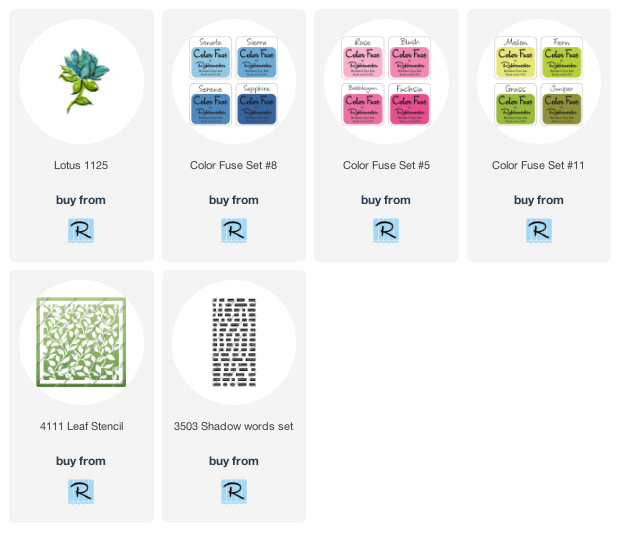 We can't get over how gorgeous this easy mixed media card turned out – all using goodies from our store. If that isn't proof positive that you can make something this richly layered and detailed without breaking the bank…… Give it a try and let us see what YOU come up with!