Celebrate a golfing enthusiast's birthday with a bright, DIY golf-themed card!
Even though our March theme is all things spring, we just HAD to carry over this fabulous idea for DIY birthday cards for golfers! The bright spring colors and the idea of getting OUTSIDE in the fresh air felt to us like the most perfect bridge between our birthday month long celebration and our eager welcoming of the new season.
Jean made this for us and we LOVE it! And, as always, we've got all the steps and tips you need to know to make this card at home. Let's dive in!

Jean started by stamping one of the tongue in cheek phrases from our Golf Phrases set in VersaFine Onyx onto a card sized piece of sky colored card stock. The then used one of the dies from our Slimline Grass die set to cut some dark green card stock and then one of the dies from our Slimline Hills set to cut some lighter green card stock. She adhered these together and then to her background and trimmed the overhang to get her lovely layered grassy horizon.
Jean used our Golf Card die to cut red, black, white and brushed silver card stock. PRO TIP: You can easily use up your scraps when you cut with detailed dies like these. Just line your scraps up with the various parts and pieces you need and run them through your machine. Less waste and you can burn through your stash!
Jean assembled her golf cart with her favorite fine tip liquid glue and set it aside. PRO TIP: For our more complicated, multi part dies, we often have a little map on our website so you can see what the different components of these dies are intended to be on your final construction. You can see the one for this Golf Card die here.
Next, Jean used our Golf Bag and Flag Stick die to cut scraps of white and colored card stock and put those together. She colored in the golf cup – the little hole to aim for – with green ink to let it both stand out and blend in (is that a thing?) on her grass.
For some fun depth and dimension, Jean added the cup to her grass with very thin foam tape, slipped the flag stick into the hole with just a dot of liquid adhesive at the bottom and then adhered the flag to the top with more of the same foam tape.
Now she adhered her golf bag into the back of her golf cart and added that assembly to the panel with the same foam tape. To amp up the festive tone of her card, Jean used our Balloons die to cut colored balloons with more scraps and the strings from white card stock. She put them all together in a little balloon bouquet and adhered them with liquid glue behind the golf cart, trimming the strings as necessary.
She popped her decorated panel onto a card base and this fabulous card was ready to delight a special golf lover!
Here are the goodies Jean used today: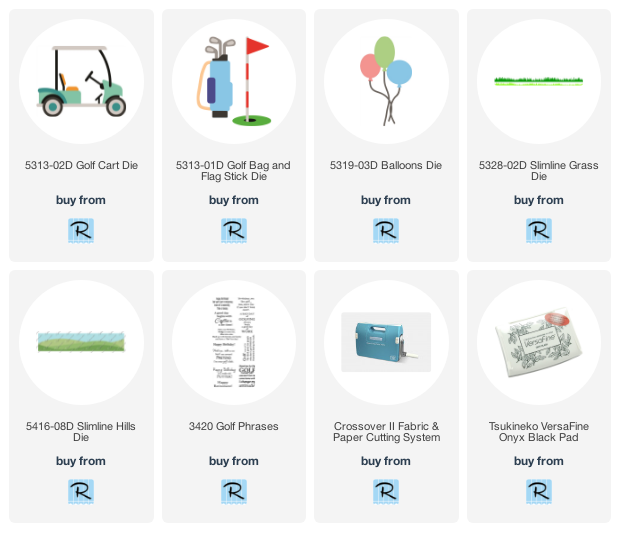 One of the reasons we make so many different stamps and dies is because we know people love to receive cards that are clearly made with just them in mind. This idea for super cute DIY birthday cards for golfers is a perfect example – think of the people who are important to you and who you want to feel special, browse our huge collection of goodies and choose items that you can use that will make it clear to those people how much you appreciate them and what they love. And – if you have any ideas, we'd love to hear them!