Looking for new alcohol ink techniques? Read on for some great PRO TIPS!
We love when our designers share fun new ways to use our goodies and today Lisa is sharing one of her super fun alcohol ink techniques to create this gorgeous background for this super fun card. Lisa says she loves combining sets from our store and had you said that our super popular Garden Gnomes would look so great with one of our new Easter sets we would have maybe given you a little side eye. But, Lisa pegged it just right and these look so adorable combined with even more critters from our Woodland Animals.
Let's take a peek at Lisa's genius……
First she cut some card stock that she likes to use with alcohol inks a little larger than background stamp you plan to use. Here Lisa used EVO Synthetic paper and left it at about 6″ X 6″.
Next she chose the colors she wanted to use that she could see would work so well together. PRO TIP: If you don't have the "right" colors of inks available, shop your alcohol marker reinkers because they will work too!
Next, she applied her inks. Lisa envisioned the green representing the ground and the blue representing the sky so she applied her little squirts of each on opposite sides of her paper. She then added a few drops of alcohol blending solution here and there to let them mix and mingle where they met and moved it all around with her hand blower. She adjusted and reapplied ink and blending solution until she experienced her "Ah-HA!" moment and set it aside to dry completely.
While the ink was drying, Lisa went to town stamping the gnomes, the critters and all the little details. She colored them in with her alcohol markers – here, Copics – and cut them out with the coordinating dies. And we're not going to lie, we are a little envious of all that fun coloring time!
When the background panel was completely dry, Lisa placed it into her stamp positioner. PRO TIP: leaving that additional space around where the background stamp will settle allows you room for your magnets! Lisa placed our Small Daisy Background stamp over the panel and then pressed the "lid" down to pick up the stamp.
Lisa evenly applied Alcohol Lift to the stamp, lowered it onto the background panel and held it firmly in place for 30 seconds. PRO TIP: using a stamp positioner helps with this because the even pressure you place on the "lid" will create even pressure over the whole stamp giving you superior results.
Lisa removed the panel and using a paper towel, buffed over the surface using short, quick motions. Almost like magic, the flowers started to appear! PRO TIP: be sure to clean your stamp as soon as you have buffed your background – don't get lost in the awesomeness!
Lisa created her card base from turquoise card stock. She cut her now gloriously flower covered background with the largest of our Nested Deckle Rectangle dies and added it to her card base. She then cut more turquoise card stock with our Rectangle Combo OPC (One Piece Cut) #3 and added the largest frame from that over the card using some dimensional adhesive.
Now Lisa arranged all her adorable elements to her card and when she had them just so she adhered them with varying thicknesses of adhesive to create that gorgeous, rich dimension. All that was left was to stamp her sentiment from our Holly Circle Gnome Sentiment set using Juniper and Dreamer Color Fuse ink which she fussy cut and added with more dimensional adhesive.
Here are the items you will want to take out or add to your wish list to reproduce this adorable card: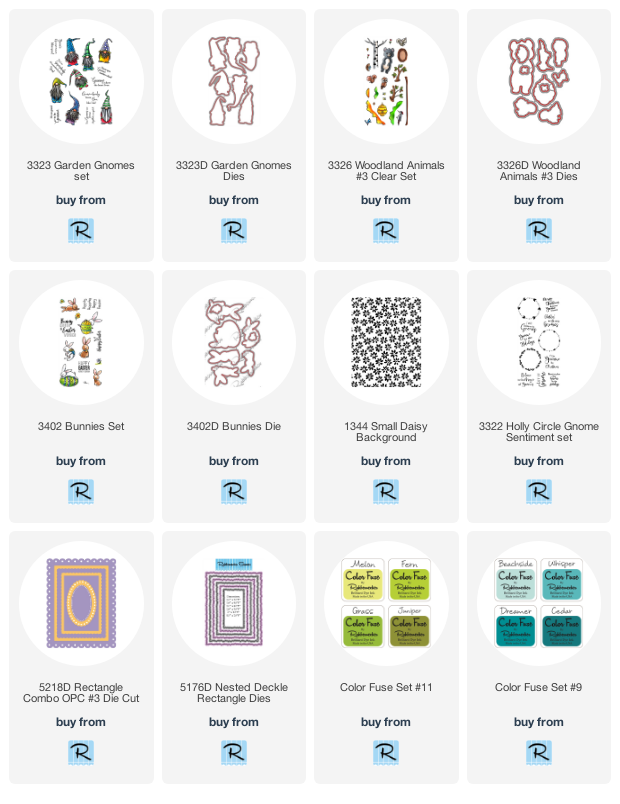 We are so excited to add this to our stash of alcohol ink techniques – what about you? Are you eyeing your background stamps to see what you want to try? Let us know – we love to hear!