Have you tried watercolor salt painting? You will after seeing this post!
Watercolor salt painting sounds like it could be complicated but it's a super simple technique and gives seriously cool effects! Today Melinda uses this fun technique on her mystical moonlit background and we couldn't wait to share it with you. Here's how Melinda made hers so you can get the basic idea.
She started with a piece of watercolor paper cut to card front size and traced a scrap die cut circle in the upper left hand corner for her moon. PRO TIP: Melinda tapes down her panel with washi tape to keep everything in place and give her a fine border to trim later. Then using her brush, she wet down the panel leaving the moon and her hill area dry. Outline these areas carefully because if this first application of water goes into these areas, the ink will bleed.
Then Melinda randomly dabbed her watercolors over this wet area. She chose a mix of dark blue, purple, dark pink and a touch of black to simulate a night sky. She let those watercolors mix and mingle for a bit. When the surface was damp – not soaking wet and definitely not dry – Melinda sprinkled some salt over the surface here and there.
What the salt does is create a "resist" for the watercolor paint and will leave interesting textural spots on your project. The coarser the salt, the more pronounced the effect. You never know exactly how this will take on your project but it always creates an added dimension of visual interest.
While her panel was drying completely, Melinda stamped her little fox in Pumpkin and Apricot Color Fuse Ink. She then colored him in with a blend of orange and a touch of brown to get that true red fox color.
When she was done she cut him out with the coordinating die. She then stamped her sentiment on a scrap of white card stock and cut it out with the smallest Inside Scallop Rectangle die. Then she cut a piece of black card stock with the same die, cut it in half and adhered the two halves to the two long edges for a cool shadow edge.
Now that her panel was dry, Melinda tapped off the salt and very gently brushed any remaining salt off the surface. PRO TIP: be very gentle when doing this because the salt can actually scratch the paint! To add a little more dimension and shadowing, Melinda dabbed a teeny bit more of the darker colors over the surface – here it looks like clouds scudding across the sky! She also dampened the moon and dabbed a teeny bit of watered down black to make that moon surface look so authentic. If you like, you can add some stars now, too, with either some white paint spattering or with a white gel pen.
Now that the rest of the panel was done and dry, Melinda turned her attention to her hilly area. She did this by wetting it down and washed over with a very light green. She then dabbed in some yellow and brown for that lovely dimensional finish.
To finish her card and hide her irregular edges from the painting process, Melinda cut white card stock using our Rectangle Combo #2 die and trimmed the watercolored panel to fit behind the largest frame, adhering it in place. She then added that assembly to a card base. All that was left was to add her sentiment and little foxy fella with some foam tape and this beautiful little work of art was ready to send!
For quick reference, here are the things Melinda used today: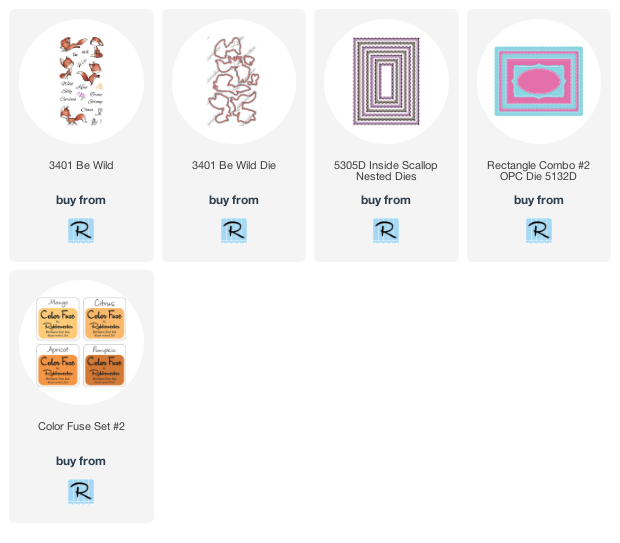 What do you think? Are you ready to try a watercolor salt painting project? Let us know what you think when you've tried it – we're dying to know!