Today we have a sneak peek at one of the new layered floral stamps available tomorrow with this one of our autumn card making ideas. We cannot WAIT for you to see these new stamps – our designers went BANANAS!! – and we know you are going to love them!
Let's take a peek at the fall card our designer Lisa created to give you a taste of what you will see tomorrow. You are going to LOOOOOOVE it!
This is the gorgeous Autumn Fire floral set … this one is SO beautiful. They really do look like they are on fire, don't they?
Lisa followed the guide that was included in the stamp set so everyone could see that you really can reproduce the beautiful shading and depth these layered stamps can give you. She used Lemon, Citrus, Apricot and Crimson Color Fuse inks – which we specially designed just FOR these stamps! – and you can see how beautifully they work together.
Lisa did use her Misti and while the stamps are clear and you can line them up easily without a stamp positioner, using one just seems to make it easier. Plus, if you want to make your color deeper or darker, using a stamp positioner allows you to exactly line up your stamped impressions. Watch for a tip video on using a stamp positioner some time in the future.
PRO TIP: Lisa suggests using a permanent marker to make a little registration mark on your stamps to indicate the top of each stamp so when you line them up you don't have to guess the alignment. This is a great shortcut because until you are familiar with all the layers in all the sets, you might have to spend a little time pondering the alignment.
You can make a pencil mark on the paper you are stamping on if you need some practice – just line up your permanent marker dots with your pencil mark and you can get perfect alignment every time. Just use a white or art eraser to remove the mark from your card element. (A marker dot is shown in the images below so it could be captured in the photo.)
She added the leaves in Moss and Basil, a die cut banner, and the frame and popped them all up using dimensional adhesive on a die cut panel of wood grain paper.
Another PRO TIP: When you cut something with a OPC – "One Piece Cut" – die, save your extras in a stash for elements like the one on this card. It sounds elementary but you wouldn't believe how many people throw those away!
Add a few sequins and you're done! Isn't it just stunning?
Here are the supplies you will need from your stash or from the store to make this card: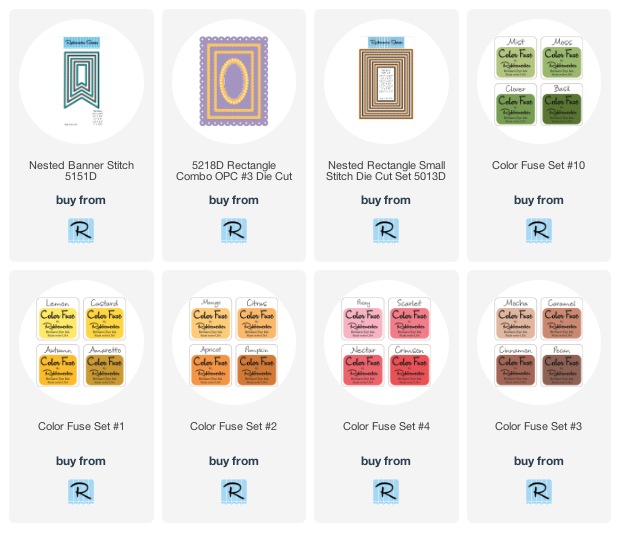 We hope you are inspired and will come back to see more autumn card making ideas as we move into fall. In the meantime, be SURE to check back tomorrow to see all the brand new layered floral stamps we have for you!