We are just loving how these cute and funny fish are just POPPING off this gorgeous background ombre done in cool and refreshing blues!
These fun fish – one of our most popular "characters" set – are from Fish Group and are one of our many sets that feature a coordinating die. We design many of our stamp sets to have those coordinating dies to make your paper crafting that much easier and give you more chances to show off your stuff!
Today's post is LOADED with tips so get comfy and check them out!
So first, here's how make that lovely oceanic background ombre panel. Our designer used an ink blending brush and three different colored distress ink pads – check here for Color Fuse ink colors we think would be FABULOUS!
Start with the lightest color and apply your inks in graduating darkness until you have the look you like. Background ombre is not hard to do and can be done with several different colors – watch for future posts featuring more of this on trend and oh-so-pretty look.
The "rays" were added with a light application of white pigment ink and spritz of glitter spray before removing the stencil.
After layering some die cut waves, our designer used the same Nested Scallop Die to cut the bottom of the waves as the whole panel – what a fun way to get double duty and a coordinating look out of one die!
Here's another clever tip for using your dies in a different way. See that cute little shorty tag with the sentiment on it? Well the die that cut that is way longer than the finished tag. And here's how you can get that too…..
Stamp your greeting – this is from Under The Sea – and cut it out with the longer tag from Nested Tag Stitch die with the greeting toward the upper section of the die cut. Now, take the die and slide it up over the greeting so the bottom of the die is where you would like to shorten the tag – you will feel the "stitches" settle so you know when it is lined up. Run it through your machine again and – Ta Dah! – new size die cut. You can do this with horizontal shapes, too!
And if those weren't enough tips, here's another fun one! You can dye your ribbon to get an exact match to your background ombre color scheme. Just smoosh – you know that's a professional papercrafting term, right? – some ink onto your mat, spritz with a little mist of water and swirl the ribbon in the ink. The more water you add the more diluted the ink will get and the lighter shade your ribbon will be.
Let it dry, tie it up and pat yourself on the back for being so amazing!
Stamp, cut and color your fishies and sea plants using Fish Group set, Fish Group 895-27D and Under The Sea 3109D. Our designer used Copic markers and added some beautiful, fine details using a superfine black pen which takes this card to a total WOW!
Pop up some of your elements with dimensional adhesive and pop on some clear "air bubbles" and you've got a card that is a showstopper!
Here are the supplies used to make this stinkin' cute card: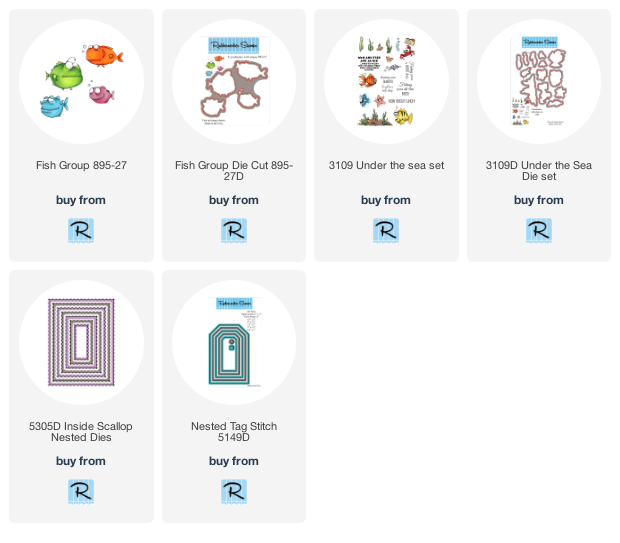 Now that you have seen background ombre in action, are you inspired to try it out? Share your background ombre creations with us on
Facebook
so we can ooh and aah!