This beautiful card made with scraps is so versatile and is one of the prettiest ways to get rid of your stash!
This beautiful card made with scraps of all things is from Melinda and we are in LOVE with this design that can help you clean out your stash. Melinda was inspired by both her scrap stash and a baker's rack on which she has a collection of house plants. Her genius is our inspiration and we love that we can use anything we have in those piles and spin them into card making gold.

Let's get started!
Melinda suggests going through your bitty scraps and seeing what catches you eye. She says "Grab a few things so you have options. You don't have to use everything you cut."PRO TIP: If you DO cut some pieces from scraps that you don't end up using, drop those right back in with the other scraps. You WILL use them at some point!
This piece of inked and stamped paper left over from another project jumped out at Melinda and you can see that the design "melts" into those tiny die cut flowers, adding lots of texture and dimension just from the finished look that she'd previously created. Take a good look at what you have in your scrap stash and if there's something in there that appeals to you in any way, try die cutting it and see what the size, shape and scale of the resulting pieces do to the material. You might be surprised!
Melinda cut this piece with our Tiny Flowers die, other coordinating scraps with our Macrame Planters Die set, our Branches and Leaves set and then some green scraps with our Leaves and Greenery set. She shaded the edges of her pots with some inks slightly darker than the card stock color to add dimension. She set all her parts and pieces aside to make her card base.
To create the setting for all her pretty plants, Melinda used our Window With Pierce die to cut a large scrap of card stock in a coordinating color; she also cut one from white for the perfect fit square for her sentiment. You know what to do with those scraps! She added thin strips of foam tape to the back of the die cut frame, making sure to add it on all the strips – you don't want your beautiful card getting squished in the mail!
Melinda now started to arrange and rearrange her die cut elements, moving things around until she loved what she saw. PRO TIP: Melinda says a good rule of design is to use odd numbers of elements so consider that when you build your own design.
For her last component, Melinda stamped her sentiment – this one is from our Sketch Rose set – onto that white piece you saved from the white frame die cut. Melinda says that these are NOT perfect squares so make sure when you stamp your sentiment you have it oriented correctly so your sentiment will fit into the opening perfectly!
Melinda adhered her frame to her card base, added her elements and then popped in her sentiment. As a last little touch, she added a drop of gold dimensional drops to the centers of some of the flowers.
SO pretty! Here are the items from our store that Melinda used – combine these with your scrap stash and you've got the opportunity to make a STACK of cost-effective cards for all occasions!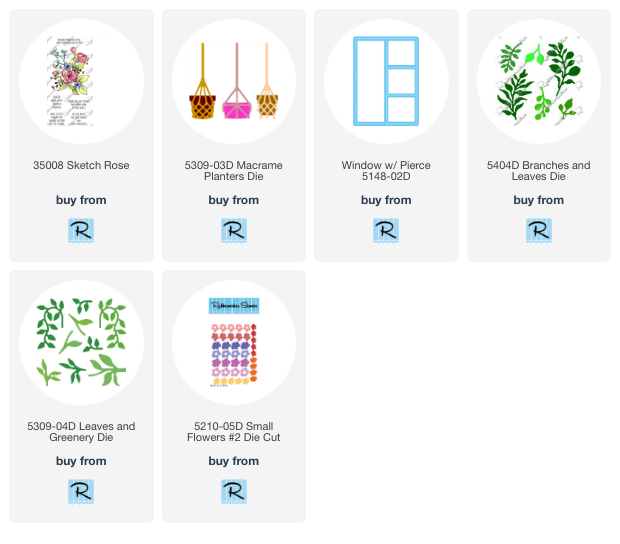 We know WE are saving this idea for a beautiful card made with scraps because we can see so many color combinations and arrangements with this as the inspiration. Any card that lets you use up what might otherwise end up in the trash in such a gorgeous way deserves a spotlight!