If you love lots of color, you are going to adore this beautiful handmade birthday card idea!
Today's bright, cheerful and just beautiful handmade birthday card idea comes to us from Lisa and we are just loving how she combined that sunny yellow with those almost vintage feeling pinks. And then to set it all off with hot pink foil and black accents – it all just works to feel so celebratory!
One of the best things about this card is that getting all those gorgeous layered details is super easy using one of our new stamp sets with a coordinating layering stencil. We know you all LOVE these – thank you for all the wonderful messages! – and now have NINE of these stamp, stencil and die sets in our collection. You can get each component separately so you can build your collection as you go.
Let's take a look at how Lisa created all this so we can try it out, too!
Lisa started by cutting a piece of white card stock the the largest of the dies from our Nested Rectangle Small Stitch die set. Using a stamp positioner, Lisa stamped the flowers from our Friends Forever set onto the panel forming a rough triangle. The reason for this is that when you have a "shape" for the eye to follow around the card, it creates visual movement and the eye and the brain just can't stop admiring the work!
Lisa blended Lemon and Autumn Color Fuse Inks from Set #1 over the panel. PRO TIP: when you know you are going to be applying colors over your background color that will either blend well or cover your background, you don't have to mask or be finicky about your lines. Lisa used mostly Lemon for that beautiful bright glow, adding a little Autumn around the edges and into the larger spaces for some depth.
Then Lisa used the Friends Forever Stencil set to add those beautiful layers on her flowers. She was able to use the included layering guide to help her choose the different shades even though she wasn't using the same color story as depicted in the guide.
Lisa used some soft oranges from Color Fuse Set #2 to color some of the petals and you can see why she wasn't overly worried about the yellow in her background going over the stamped images.
Then she filled in with pinks from Color Fuse Set #5 for a beautifully complementary look that brings those flowers to life!
After all her flowers were done, Lisa colored in her stems and leaves with inks from Color Fuse Set #11. She also pulled out her watercolors, mixed up some very wet versions of coordinating colors plus a little white and black and splattered several layers of these colors over her stamped and stenciled panel.
When her panel was completely dry, Lisa layered it over card stock layers in yellow and white, each layer larger then the previous one by ⅛ " and adhered this assembly to her card base.
Using our Birthday Script With Shadow die set, Lisa cut the shadow portion from a scrap of white card stock and the script from some pink foiled paper and adhered them together with liquid glue. Lisa cut a ¼ " strip of the same pink foiled paper to span the card and adhered it over it about one fourth of the way down. She then adhered her word die cut over that with some dimensional adhesive.
Then using our Small Tags die set, Lisa chose one of the shapes and cut it twice, one from a scrap of black card stock and one from the same pink foiled paper. She stamped her sentiment onto the black tag with Versamark and heat embossed it with white powder. She also stamped "Happy" from our Build a Phrase #1 and heat embossed that, too, in white.
She adhered this to the pink tag, offset slightly to give just a peek of an accent and adhered that to the card with more dimensional adhesive.
Lisa added the "Happy" to the top of the card over her word die cut.
And last, she added a few sequins to echo the shine from the foiled paper and she was ready to send this to someone very lucky!
SO lovely! Here is what Lisa used from our store today to make this gorgeous card: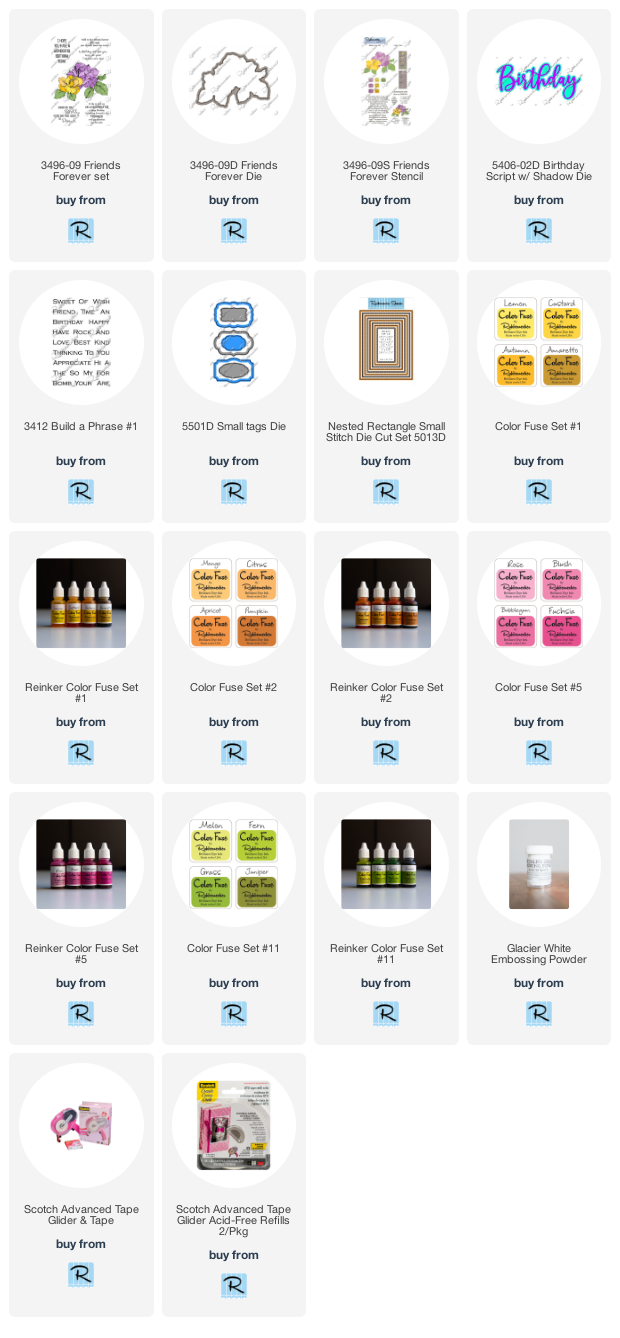 You can use this beautiful handmade birthday card idea with any floral stamp set you have and just change up how you color in the flowers. But if you really love this look, grab your favorite stamp and stencil pairing and give this a try!