This idea for beautiful handmade greeting cards is so fresh and sweet!
Ok, we'll be honest – we think our design team takes the cake when it comes to ideas for beautiful handmade greeting cards. We haven't had a single project from these talented women that we haven't stopped and swooned over.
THIS card from Melinda is one of those projects that we know we will be coming back to over and over, changing up the flowers and the colors and the greetings. This design is so simple and so sweet that all you can do is just sink into how pretty it is!
Melinda shared with us that this card was inspired by her garden, specifically her Clematis that is climbing up her trellis. While we can only imagine how beautiful her yard must be, we can get her step by step directions to make this card so we can have a piece of it, too. Let's dive in!
Start by making your slimline card base out of a nice, thick white card stock – cut to
8 ½" X 7″, scoring at 3 ½" on the 7″ side. Now take another piece of white card stock and cut it out with the largest of our Slimline Nested Stitch dies. Place our Geometric X Slimline Insert Die in the center of this panel – tack it down with some washi tape – and run it through your machine again. Set these two pieces aside while you stamp!
For this card, stamp our Sweetest Sunrise floral stamp twice on a piece of Copic-friendly paper with Copic-friendly ink and color them in with your favorite colors. When you are done coloring – tongue in or out, we don't judge! – cut them out with our coordinating dies. Next, stamp your choice of greeting – Melinda's is from our Desserts set – and fussy cut or, if you have one, your scanning e-cutter.
Now assemble your parts and pieces! Arrange your die cut flowers on your card, setting them at different angles for lots of visual flow, and allowing them to hang over the edge at the corners. Using your super sharp paper snips or your trimmer, cut the excess of the die cuts off at the very edge of the slimline die cut piece. PRO TIP: Doing this hanging-over-trimming trick creates that visual movement and flow on a project that keeps the eye engaged.
Now add foam tape to the edges of your slimline die cut panel along with a few pops in the centers of the squares to make sure that the card doesn't get squished! Adhere this to your card base and last, add your sentiment with more foam tape to emphasize the dimension and shadows.
Voila! As we said earlier, you can change up whichever flower set you want to use, try every color combination you can think of on the flowers and use any sentiment and this card is one of the best one-card-fits-all ideas we've seen! Here's what you will want to snap up to make this card at home: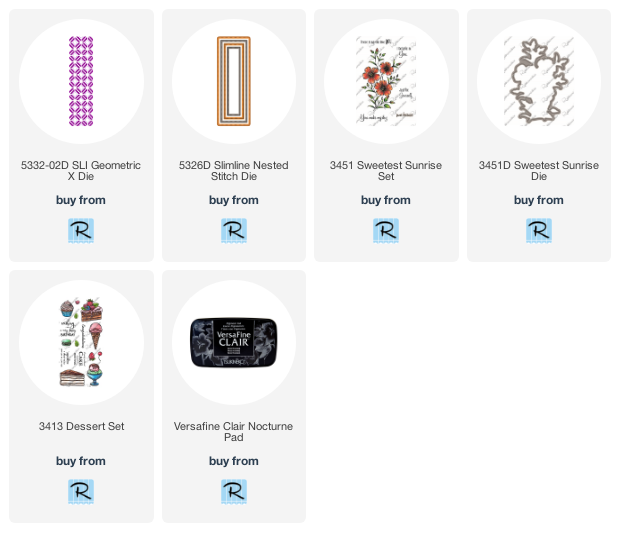 Do you agree that this idea should be a keeper in the beautiful handmade greeting cards file? We thought you'd agree! And we'd LOVE to see what you come up with using this idea so be sure to share your creations on our Facebook page so we can ooh and aah!