Check out two liquid watercolor techniques on one card!
If you've been afraid to try liquid watercolor on your cards, today's project will surely convince you to try it! The other day, we shared a project using the base layer of one of our beautiful layered flower stamps and today Natasha is showing us how to use just the outline layer. If you haven't snapped up one of our layered flower sets yet, please try one out – there are SO many ways you can use them!
Natasha used the Ken Oliver liquid watercolors that we carry in our store. We find these are the most vibrant colors and give the best results. We carry the four most popular color groups plus Liquid Sparkle so if you haven't "dipped your brush" into this medium yet, check out the colors and choose your favorite set.
On to today's card! Don't let all the steps scare you – our design team gives you ALL the details so you can have confidence when you make these projects for yourself! First, Natasha stamped her images using Versafine Clair in Nocturne onto water color paper and heat embossed it with clear powder. PRO TIP: Heat embossing clear powder helps to make little "corrals" for your liquid media. She then taped her panels down to a surface to keep the water color paper from any warping.
Natasha then used a variety of shades of liquid watercolor to color in all her flowers and butterflies. PRO TIP: Color each image in layers, one layer at a time, and allowing each layer to dry thoroughly before adding more color. This prevents any muddying of colors and allows those vibrant layers to really shine through.
When Natasha finished coloring, she let everything dry completely before cutting out her images with our coordinating dies. PRO TIP: When we say "completely dry" we mean bone dry. Die cutting damp water color paper could give you fuzzy edges, or worse, peeling of layers of the paper. Not good.
After die cutting her images, Natasha put them into her Splat Box and splattered them with some metallic watercolors for some glorious reflective light.
Now to use her second liquid watercolor technique, Natasha placed a few drops of different shades of liquid watercolor here and there on a glass mat, gave it a spritz of water with a fine mister and, taking a slimline sized piece of water color paper, "smooshed" the paper onto the glass mat, picking up ink in beautiful random splotches. She repeated dropping, spritzing and smooshing – a "technical term" lol – until she had the look she wanted. Again, she set this aside to dry thoroughly.
As if this background wasn't striking enough, Natasha used our new Slimline Glass stencil to randomly apply some Versamark and then heat embossed the areas with silver embossing powder. She then cut her background panel with one of our Nested Slimline Deckle dies and also cut a white panel in the same size with our Nested Slimline Scallop die. PRO TIP: Using dies that are extremely close in size allows just a HINT of the back layer to peek out around the edge of the top layer, creating an enticing bit of visual interest.
Now Natasha could assemble her components. She adhered the panels together and added them to her card base with adhesive tape. She then arranged her die cut elements and when she had them just where she liked, she added with with liquid glue and foam tape for lots of dimension.
Last, she stamped her sentiment with Versamark onto a scrap of black card stock and heat embossed it with gold powder, trimming it to a crisp rectangle. Then she used our You Script With Shadow die to cut another scrap of black card stock for the shadow and matte golf foil card stock for the detail. She adhered these together with liquid glue and added both sentiment pieces to her card with dimensional adhesive. And then, to echo all that beautiful metallic brilliance, she popped on a few sequins to keep the eye moving all over the card.
WOW! This card is a total showstopper! But now that you know the steps to making it you can add or pull out all the items Natasha used and try it out!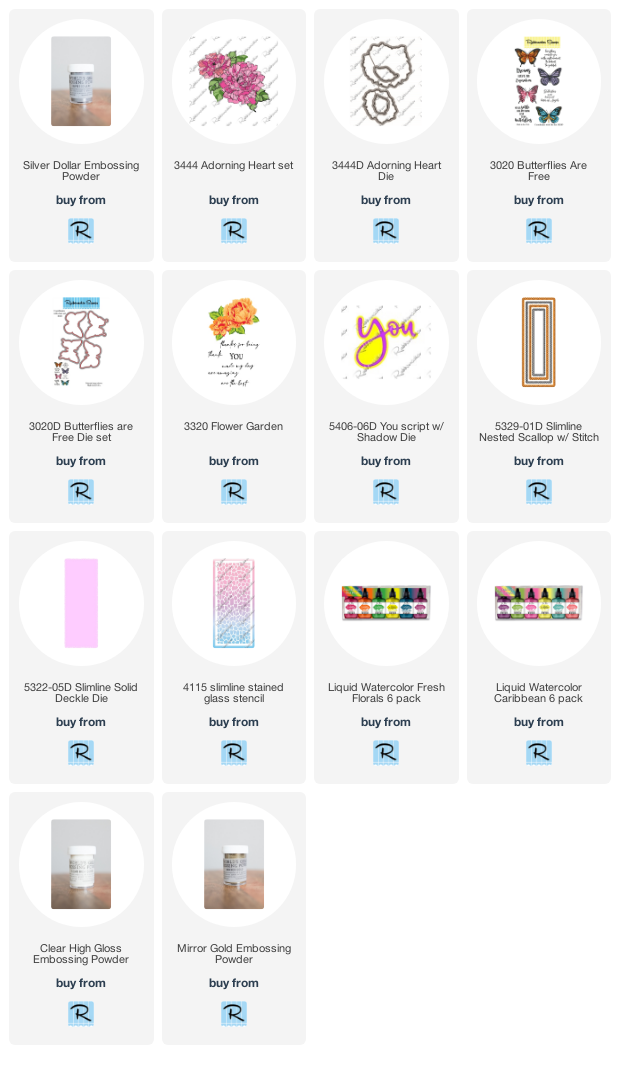 Now that you have the know-how to do not one, but two, ways to use liquid watercolor, we encourage you to try these out for yourself. There are no wrong ways to use them and the results are always gorgeous!