Our flowers stamped in pigment on black card stock is STUNNING!
While it isn't as popular as it once was, Renee used pigment ink on black card stock on her project today and the results are so magical! Because pigment ink sits on top of the paper and doesn't color it as dye ink does, you can stamp it over darker colors and it will really pop. Let's see how Renee created this for us.
Renee used our new Country Blooms set and started by stamping the stems and leaves and the greeting first with silver pigment ink. She highly recommends using a hinged stamp positioner in case you want to go over the impressions more than once. When you are stamping pigment ink you want ensure very thorough coverage to help increase the impact of the light colors against the dark and sometimes extra stamping can help build up the ink.
NOTE: Pigment ink does stay wet for a while after stamping. Renee is professional grade so she used her heat tool to dry the panel when she was with all her stamping. If you are concerned about smears and smudges, heat dry each layer as you go.
Renee then used the flower layer to stamp with blue pigment ink. Renee made a point of telling us how easy this set is to line up!
When the panel was completely dry, Renee cut it with one of the dies from our Nested Rectangle Small Stitch die set. She them cut a piece of blue card stock to frame this panel with our Nested Rectangle Scallop die set. She adhered them together with adhesive tape and then added it to a card base with more tape.
As a final touch, Renee added some pink pearlescent drops to the center of the flowers and let those dry completely before sending this off to one super lucky person!
Here are the items from our store that Renee used today to make this enchanted card: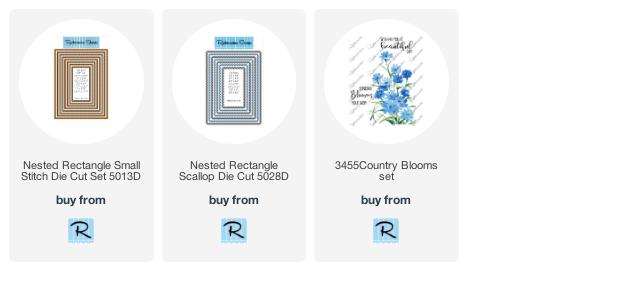 We encourage you to dig through your stash and try out using one of our new floral sets with pigment ink on black card stock. Experiment with the layers and the colors and see what happens!