Come see why we truly think our Color Fuse ink IS the best ink for blending on cards!
All you have to do is look at this glorious card from Sammi to know why we believe our Color Fuse ink is the best ink for blending on cards and other paper crafting projects. We've mentioned before that we drove our formulators crazy with testing and tweaking to make sure that our ink would blend easily adn with excellent results every time.

We heard from lots of customers that they loved the look of ombre and other ink blended effects but were never able to achieve those velvety smooth transitions. We know not everyone wants to or can spend hours and hours learning different techniques so when we create our Color Fuse Ink, we knew that making it one of if not the best blendable ink was a priority.
Now we have customers – some of the same people as before – coming up to us and thanking us for creating these inks. They are finally able to recreate those looks they loved and we are SO HAPPY!
Take this spectacular card, for example. Even with Sammi's addition of those beautiful darker edges that accent her die cut elements, every color just melts into the next.
Sammi says "When I think of fall, I think of the colors. I love the purples of autumn so I decided to create a autumn sky using the Vined Leaves stencil and I love it!" So do we! Let's hear directly from Sammi how created this so we can try it out, too.
First, I took the Vined Leaves stencil and ink blended my autumn sky using shades from Color Fuse Sets #2, 5, 6 and 12. I then took some white acrylic paint and added some white splatter.
I then cut out the mountains and trees out of white cardstock using the Evergreen Forest die and the Tabbed Mountains die. I ink blended the mountains with the same Color Fuse shades as I did in the sky, adding Hearth Color Fuse ink to the top edges to create some shadow and dimension
I ink blended the trees with Moss and Basic Color Fuse Inks from Set #10 also adding some darker dimension to their tops with more Hearth Color Fuse Ink from Set #12. For continuity, I added the same white splatter to the trees. PRO TIP: I find that I can use the grey inks from Set #10 to add that extra dimension to all of my ink blending with Color Fuse inks.
I then glued the smaller mountain behind the larger mountain and popped it up onto the sky card panel with foam tape. I then popped the trees up onto the mountains using foam tape. Layering everything with foam tape gives an otherwise simple layout TONS of depth and dimension which you can really see here.
Now when I think of fall, I think of thankful cards, so I went with a thank you sentiment. One of my favorite thank you sentiments is from the Poetic Peonies stamp set, so I went with that. I stamped it and cut it down to a sentiment strip and matted it with some purple cardstock. I then popped the sentiment on top of the trees with some foam tape. Last, I matted the card panel with the same purple cardstock and then adhered it to my card base.
Rubbernecker here – isn't this really just so pretty? We just love Sammi's color choices and how she really showed off our inks.

Here's what you will want to grab to make this card: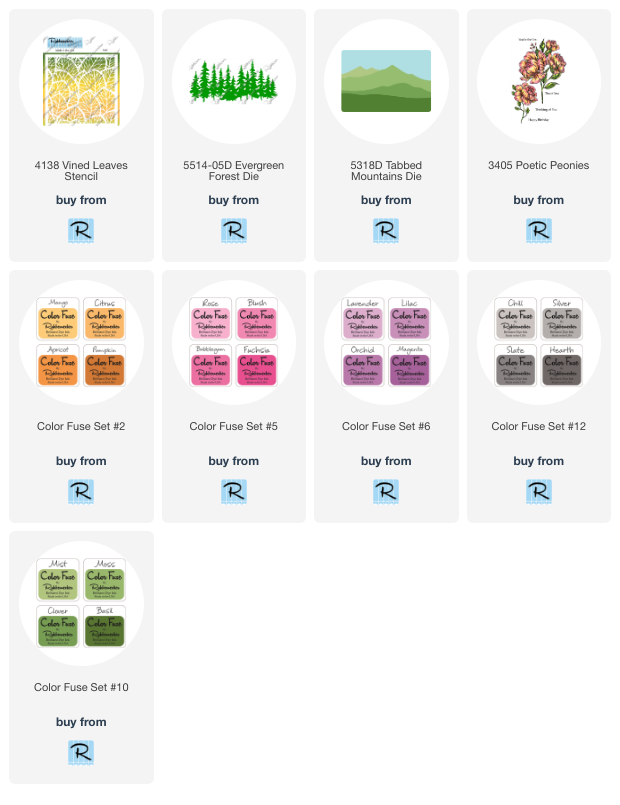 So if you are looking for some of the best ink for blending on cards, we encourage you to come check out all our Color Fuse Ink color sets. Pick your fave(s), give them a try and then come back for the rest and the refills to have everything you need!