Check out this adorable birthday cake card and a super "sweet" bonus project!
We just about fell over when we saw this fabulous birthday cake card and positively squealed when we saw the extra card Annie made for us. She says "I loved all of the images in the new Dessert Stamp Set so much, I had to create two cards to be able to color nearly all of them". We just LOVE it when people are inspired to USE our stamps and Annie ran with them – let's check out both these precious projects!
First, let's dive into the delicious details on Annie's birthday cake card. She stamped the cake slice from our new Dessert Stamp set onto white card stock and colored it with Copic markers, cutting out with the coordinating die when done.
She then took a card sized piece of white card stock and stamped it with our Not So Many Random Dots Background Stamp with three bright colors all at once and stamped. PRO TIP: Our Color Fuse cubes are perfect for adding multiple colors to stamps. Just dab a cube in your lightest color here and there over the stamp, repeat with the next darkest shade, and so on. Start with the lightest to darkest so you don't accidentally "ink" a cube with a darker color.
Annie then rotated the stamp, inked it up again and stamped. She specifically chose colors that would look great if they overlapped. We think this looks like yummy cake sprinkles! She then die cut this panel with the largest die from our Nested Scallop with Half Holes Die Set.
To make her cake plate, Annie cut some aqua colored card stock with our Rectangle Combo OPC#3 Die and kept the two smallest die cuts together – genius! She stamped her sentiment from our Best Friends Etc. Stamp Set in Versamark ink onto a scrap of black cardstock and heat embossed with white powder. She then trimmed the ends of her banner with her detail scissors. PRO TIP: to make an easy fishtail detail as Annie did here, simply snip into the center of the end of your strip – the deeper the cut, the more pointed your tails will be. Then just cut from each corner to the inside tip of your cut and you will have perfect little points every time.
Annie layered her "sprinkle" panel over a dark teal panel and adhered it to a top folding card base with adhesive tape. She then added the "plate" to the center of the card with dimensional adhesive and then her yummy yummy cake onto that with more foam tape. Using even more of that oh-so-handy foam tape, she added her sentiment below and with the addition of a few clear rhinestones for some sparkle, this card was finished!
Now for her bonus project – all those Sweet Wishes!
Start with a piece of kraft colored card stock – Annie trimmed hers to 4.125″ x 5.375″ to leave just a whisper of her card base showing around the edge. She stamped several of the treats from the same brand new Dessert Stamp Set all over the kraft panel with Versafine Clair Nocturne Ink and colored them in with her favorite colored pencils.
She then used our Wishes die to cut one scrap of white card stock and three scraps of black card stock and adhered all the layers together, with the white layer on top, just ever-so-slightly offset to give the illusion of a deep shadow. We LOVE this idea to add a ton of dimension!
She then stamped "sweet" from our Build A Phrase #1 Stamp Set in the same in on another scrap of white card stock (you see why we say "save your scraps!") and trimmed it into a small rectangle.
Now to assemble! She adhered her sweet treats to another top folding card base with dimensional adhesive, added the die cut word stack to the card front with liquid adhesive and the stamped word with more foam tape. We just LOVE all the visual movement on this adorable card!
Here are the things you will want to add to your card to be able to make these fabulously fun cards: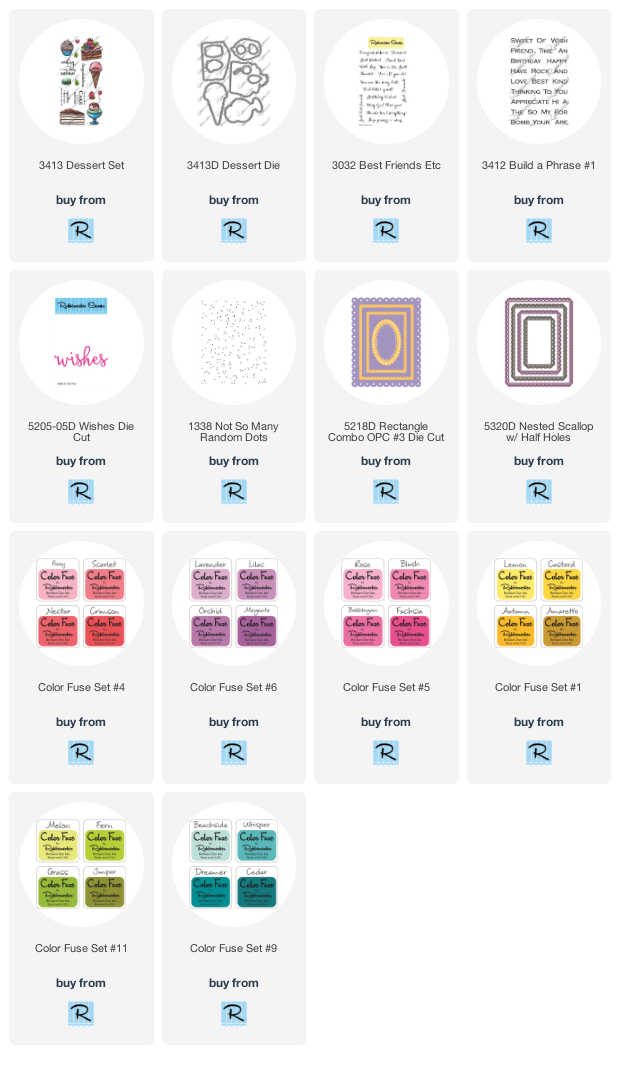 What better way to say Happy Birthday than with a birthday cake card? Don't these projects just make you want to stamp? And maybe dip your finger in some frosting?