Today's bright spring slimline card will cheer anyone up, rain or shine!
Today, Sammi is sharing this sweet and fun bright spring slimline card and we just adore how she's filled her umbrella with spring blooms! She says "I was imagining spring flowers and April showers so I decided to create a bright cheery day with flowers and the umbrella die." This is SUCH a cute nod to the old saying and we can't wait to get her details on how to make one ourselves!
First Sammi cut out the base panel with the Mini Slimline Cover #2 die and used the Clouds stencil to create a cheery sky with Color Fuse inks from Set #9. She then glued the panel onto a mini slimline card base.
Sammi then cut out all of her flowers, leaves, grass, picket fence and umbrella using the Mixed Flower stack die, Mixable Flower Stack die, Small Flowers #3 die, Small Butterflies dies, Slimline Grass die, Picket Fence die and Umbrella die. Phew! We are so glad we make so many different dies!
Using bright spring shades of Color Fuse inks in all the Sets she's linked below Sammi added beautiful shading and dimension to her die cut elements.
Here's how she colored her umbrella sections – you can see how she added just a hint of extra color saturation at the edges for that subtle curved look.
Then she adhered her umbrella together using dabs of liquid glue.
Next she used the same very subtle but oh so pretty technique on her blossoms.
And now, she added a little more dramatic shading to her little picket fence, knowing that this piece on its own would be adding dimension to the whole scene.
And last, Sammi added her magical touches to her grass.
Now she built her bright spring slimline card! She arranged her little blossoms in her umbrella, adding the with their leaves with little dabs of liquid glue to give her a second or two to adjust and tweak. She trimmed her grass pieces to match the width of her card and layered them up from the bottom of the card, trimming the lengths as necessary. She then placed her little fence in the grass and popped her umbrella over the scene using a little dimensional adhesive to enhance the depth. She added a couple of little die cut butterflies and a sentiment stamped on a scrap and her card was ready to delight someone lucky!
Here are the items from our store that Sammi used today: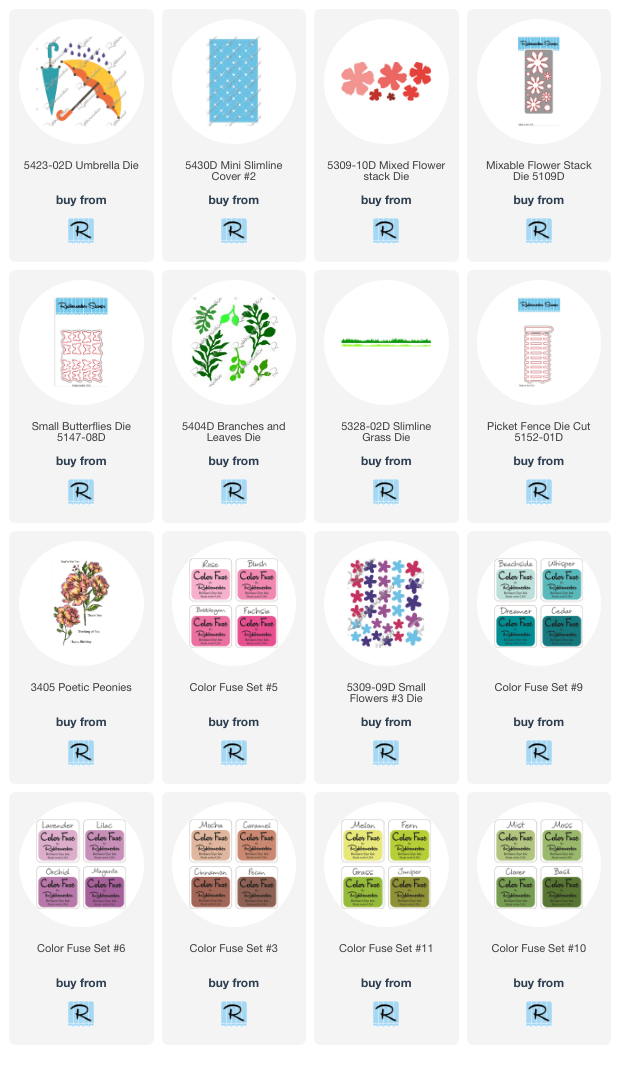 While you are adding the items from this cute card into your cart, don't forget to grab what you have to have from our Rubbernecker April 2023 release – we are getting low on many items (don't worry – we've already put in the reorders!) – so grab what you can't live without now!
We hope you love this bright spring slimline card as much as we do and are inspired to use any or all of the sweet elements and colors to inspire your own springtime creations!