All May we will be sharing cards to make for summer occasions – today kicks us off perfectly!
We like to give you a little head's up on ideas and designs for what's coming and this month we are sharing cards to make for summer occasions. From backyard barbecues to pool parties to road trips to soaking up the sun, we have cards to celebrate everything from the exciting to the everyday.
Today, Jamie is serving up that idea with this totally adorable and charming card that can be used for any reason. It features a little peek-a-boo fold and some stinkin' cute details so let's get right into the making!
Jamie started by cutting a piece of decorative paper from our 6 X 6 Off The Grid Paper Pad to 4″ x 5 1/4″. Be sure to save your scrap strips! About half down the right hand side of the panel, Jamie cut a 1 1/2″ slit INTO the paper from the edge to the center. She now folded back the two triangles using the outside corner points and the inside of the slit as her connecting lines. Jamie added little pieces of foam tape adhesive on the backs of the folded triangles to add a little dimension. She then adhered this a green card base with her tape runner.
Using Serene Color Fuse Ink from Set #8 and a phrase from Kittie Says Summer (a GREAT set for all your summer sayings!), she stamped her choice of all the terrific sentiments onto a scrap strip of white card stock and layered it onto another scrap strip of the same green as her card base. She then layered that onto a scrap strip of the patterned paper, which has a beachy tan on the backside – the tan you see on those folded triangles.
She added some foam adhesive strips on the back of this strip, leaving space where it would sit over the folded area of the background paper to prevent it from squishing the down.
Using our Small Leaf Group die, Jamie cut some white card stock, vellum and the same green card stock from her card base. She experimented with her little detailed elements and then tucked them under the sentiment strip, adhering them with dabs of liquid glue.
Then for one more sweet nod to the season, Jamie stamped the duck from our Woodland Animals #1 Clear Set on white cardstock with black ink, colored him/her in with colored pencils and cut it out using the coordinating die from our Woodland Animals #1 Dies. She "floated" this little cutie on the sentiment strip in the open green space on her card.
Is this not the cutest?
Here are the things from our store that Jamie used to put this together for us: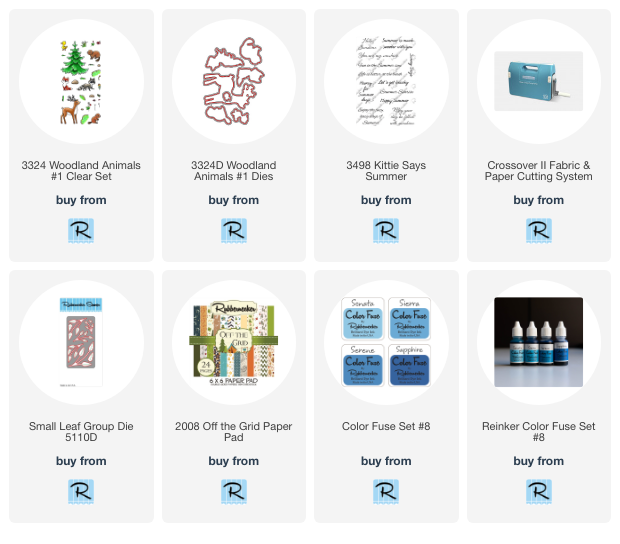 We hope you hang out with up all month long and soak up all our fabulous cards to make for summer occasions. It's so fun to have the perfect cards ready to go at a moment's notice so note the ones you love the most, make one or a few and be all set for the summer!