This idea for CAS die cut cards is one that you can use over and over forever and no one will be the wiser!
Imagine if you had at your fingertips and idea for CAS die cut cards that came together so fast, could be made with just about any die cut image and used only a touch of ink to bring it to life? Would you make it, like, ALL the time?

Today's gorgeous card from Carol is just that. So clean and simple but just so beautiful and endlessly flexible. Carol says "To me, CAS cards have one main focal element, only a few colors, with lots of open space to rest the eyes. Ask a dozen people their definition of CAS, and you'll probably get a dozen different responses! Haha!" Well, we are loving Carol's interpretation of CAS and want to share, in her own words, her process for making this beauty.
Directions for this CAS die cut card:
Create the focal element by die cutting the Open Flower #1 die three times from 80# white cardstock.
Use liquid adhesive to adhere the three layers together. Set it aside to dry. I like to place a large stamping block on top while it dries to keep it totally flat.
Die cut the two flower backers in the Open Flower #1 die from 80# white card stock.
Place them back into the negative space with some removable tape on the back to hold.
Use ink blending brushes to add Posey, Scarlet, and Crimson Color Fuse Ink from Set #4 to the flower backs in an ombre pattern.
Here's a look at the finished flowers.
I decided that I wanted the three berries colored so I added lots of removable tape around them to mask off the rest of the piece.
I used a blender brush and Scarlet ink to color each berry.
Next add liquid glue to the back of the flower outlines of the large die cut piece.
Adhere the flower backers behind the outline piece.
Stamp the sentiment from the Birthday Celebration stamp set with Hearth Color Fuse Ink from Set #12.
Trim the sentiment into a rectangle.
Assemble the card by adhering an A2 sized piece of coordinating colored cardstock to an A2 base with liquid glue.
Next I chose a scrap of paper from the Welcome Spring paper pad and used the back of a floral patterned paper that is a lovely gray.
After trimming the gray paper to 3-¾" x 5″, run it through your die cutting machine with the Quilted Stitch Cover die.
Adhere the gray piece to a white cardstock layer that gives it a 1/8″ border.
Adhere these together with glue then to the card base.
Adhere the completed Open Flower #1 die to the card.
Add foam tape to the back of the sentiment strip at each end to pop it up on the card.
If desired, add a few clear gems to the flower's berries and around the sentiment.
Rubbernecker here again. Isn't that just so lovely? It's so amazing what a little ink and paper can create! Here's what Carol used today if you are just itching to make this in every shade: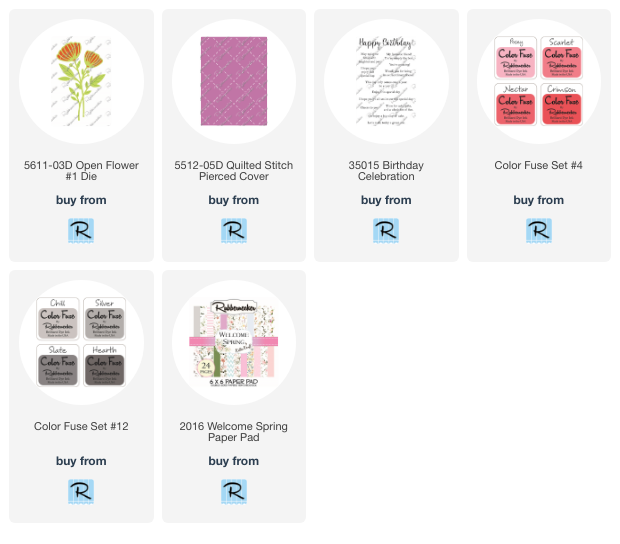 There are so many ways you can make these CAS die cut cards with the dies you have already in your stash or with that pretty Open Flower die. Just browse your stash, see what pops out at you, add a touch of color and – voila – a card you can use for just about any occasion!