Come see how our designer created a CAS stencil Christmas card that has so much detail no one will believe it wasn't hand painted!
We all love to have a few clean and simple cards tucked away, right? And sometimes, as lovely as the cards may be, a CAS card can sometimes be a little…….well, TOO simple. If you are looking for a project that is very simple to put together and has a beautiful clean style for that fresh look, then today's CAS stencil Christmas card is exactly what you've been looking for.

Carol – our designer today – says "This is such a fun and easy card to make using Rubbernecker's new Bells and Garland coloring stencils!" Carol also shares that she finds this card to be one that would be super easy to mass produce for your holiday cards.

It sure is gorgeous enough!
Let's let Carol share her steps with us and then we will chime in at the bottom of the post.
Trim a piece of green card stock from the Welcome Spring paper pad to 4″ x 5-¼".
Use glue to adhere it to a top-folding A2 card base.
Die cut pink card stock with the largest Nested Rectangle Scallop die.
Use glue to adhere the pink die cut to the card base. NOTE: IF you are indeed going to use this card as your batch made holiday card, assembling all you card bases is a great first step!


Next we will use the Bells and Garland Stencil set to create the image.
(Note: I like to stencil first, then stamp the outline image. This way I have no worries about smearing the black ink or the colored inks dulling the outline. If you prefer, go ahead and stamp the Bells and Garland outline stamp now.) PRO TIP: If you do NOT have a stamp positioner, you may want to do all your stamping first since lining up the stamp with the stenciling is key to creating that beautiful hand painted look. Stamp them all and let them dry for a good long time before proceeding.
The next four photos show the ink colors I used. I used Clover and Basil Color Fuse Ink from Set #10 for the leaves.
You can see from this photo how simple it is to line up layer 2 of the stencil.
I used Fuchsia, Rose and Blush Color Fuse Ink from Set #5 for the berries and bow. I did do a little ombre-style ink blending through the bow to add some dimension. Thanks to the excellent blendability of Color Fuse inks, this is easy to do!
Here is how I added the silver, again, using a little additional blending technique through the stencil to help create even more dimension and texture.
Next is the step where I lined up the Bells and Garland outline stamp with my stenciled image.
PRO TIP: I highly recommend using a stamp positioning tool (such as the MISTI) for this part. If I didn't have this tool, I would definitely stamp the image before stenciling as I mentioned above.
I placed the stamp over the image and just took my time slightly moving it until I was satisfied. Really, this only takes a few seconds but getting it lined up just right does make all the diffrence.
This image shows the alignment I went with just before I stamped it with black ink.
Check out these next two before and after photos. I love seeing how the outline stamp brings the stenciled image together!
Next trim the panel to 3-½" x 4-¾".
Prepare the panel for heat embossing by pouncing your anti-static tool over the bottom left corner of the piece.
Stamp the sentiment from the Bells and Garland stamp set with Versamark clear embossing ink.
Sprinkle black embossing powder over the stamped sentiment and use your heat tool to set it.
Finish the card by adding foam tape to the back of the image panel to adhere it to the center of the card base.
I don't think any holiday card is complete until it has at least a bit of sparkle! I added white gel pen highlights to the berries, a few pink gem stickers, and a silver glitter enamel dot to the bell.
I love how pretty this card ended up turning out and how easy it was to make! Here's what I used today: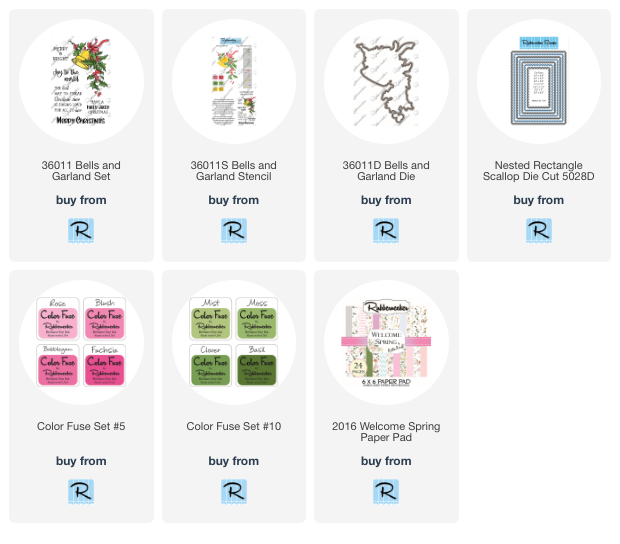 Rubbernecker back. WOW – this CAS stencil Christmas card really does combine that beautiful look of so much work with such a simple design. We just love it when we have a vision in our heads when we design our products and then our incredibly talented Design Team takes it that much further. We hope you get a chance to play with these new stencils and create your own CAS holiday cards!