Today we are celebrating Juneteenth with our whole, amazing, wonderful community!
We consider ourselves to be truly blessed to be celebrating Juneteenth with our entire community. We have long held that diversity is an advantage and are one of the few companies in our industry who love sharing that beauty and richness through our products.
For those of you who don't know the origination of Juneteenth, here's a very brief version of the history with which the day is recognized. In January of 1863, the Emancipation Proclamation abolished slavery in the United States. Some states were under Confederate control, however, and did not acknowledge this. The (at the time) most western state in the Confederacy, Texas, was the last to be reached as Union troops crossed the country to make this information public. On June 19th, these troops reached Galveston Bay, Texas and publicly announced that more than 250,000 enslaved black people in the state were now free by executive decree.
Today we recognize this date as the date in which ALL people were free people. We have much to do in establishing equality for all and on this day we join in celebrating Juneteenth as a day to use as a starting point for this work.

Now on to today's projects celebrating Juneteenth! These first two were created by Lisa, and we love the bright colors and encouraging sentiments. Such beautiful cards.
Next, let's actually make a stunning card! Follow along as design team member, Melinda, gives us step by step instructions for creating her stunning card celebrating Juneteenth!
First, stamp Jimanekia with Copic-friendly ink and color her in with V17, E35, E13 and cut her out with the coordinating die. Now lay her down on a card sized panel and see how you would like to arrange your flowers. PRO TIP: Use a stamp positioner and actually place the stamps on the panel around your focal element until you've got them where you want them. Then just close the lid of the positioner and you are good to go!
Melinda used the medium sized flowers from our Poetic Peonies stamp set and stamped them in Lilac Color Fuse ink. Now lay down a piece of masking paper (or post-it notes) over the flowers and stamp again. Cut out the masks, lay them over the flowers and now use Moss Color Fuse to stamp the leaves up and over the flowers so when you remove the masks, they will look like they are peeping out from behind the blossoms.
Take that beautiful floral panel and cut with our Nested Rectangle X Stitch die.
Next cut about a 1″ scrap of white card stock and stamp your greeting – this one is from Darling Dahlias – and trim the ends to fit. Add Jimanekia to the front of the card with some foam tape and then add the greeting strip over the bottom of her neck.
Now make that fabulous Friend element. Cut the base – the shadow – of the word from a scrap of white card stock. Blend some Lilac Color Fuse ink over another scrap and cut that with the detail word.
Now for some added magic, cut a piece of white fun foam with the shadow layer and add the card stock element to that with more liquid glue. Add this under your sentiment, add the panel to a card base and this gorgeous card is ready to send to someone special.
Here are the items you will want to have on hand to make this card: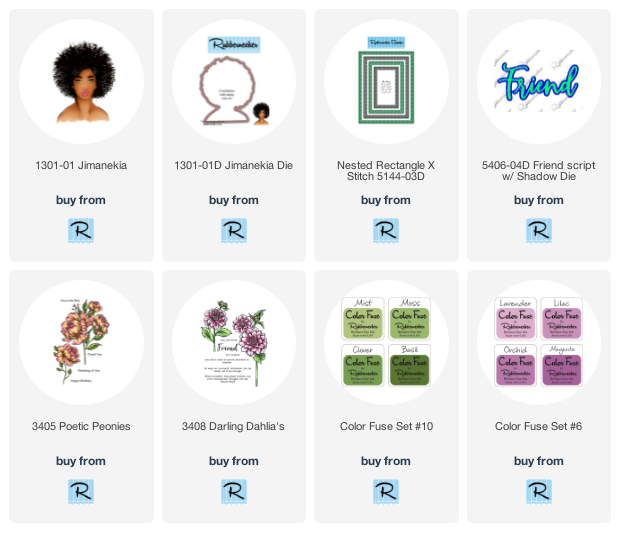 nbsp;
We hope you join us in celebrating Juneteenth as a day of significance for ALL people and are as happy to be a part of this richly diverse community as we are!