Come see how easy it can be to change spring cards to fall cards with some simple color swaps and a different sentiment!
Carol, today's designer, says "Just because a product packaging has springtime colors doesn't mean it is strictly for spring!" Today she is applying her design magic and showing us how we can change spring cards to fall cards with just a few small touches. Carol goes on to say "When I made my card back in the spring (see this blog post) with the same stamp set, I put a sticky note on it to consider the Floral Wreath Set for an autumn card. Except for the stenciling to color the image, the card elements are all heat embossed too!" First, we love this project and second, how smart is that? Adding stickies onto things with future project ideas! We sure hope Carol doesn't mind us stealing that idea!
Let's let Carol tell us in her own words how she put this together.
First stamp the Floral Wreath onto white cardstock with Versamark clear embossing ink. Sprinkle on copper embossing powder and use your heat tool to set it. Then cut the wreath out with the coordinating Floral Wreath die.
Next place layer one of the Floral Wreath Stencil (layers are identified on the packaging) over the embossed Floral Wreath. (Yes, I cut each stencil of two layers apart–I find them easier to use.) Place a couple pieces of removable tape on the edges of the stencil to hold it in place. (In my photos you will see that I used a "sticky mat" to hold the stencils, eliminating the need for tape.) Use an ink blending brush and add Apricot Color Fuse Ink from Set #2 through the stencil.
Remove stencil layer 1 and place stencil layer 2 over the wreath. Ink blend Pumpkin Color Fuse Ink also from Set #2 through a few of the openings and Autumn Color Fuse Ink from Set #1 through the other openings.
Repeat the above steps for the Floral Wreath stencil layers 3 and 4. For these layers I used Amaretto Color Fuse Ink from Set #1 and Juniper and Grass Color Fuse Ink from Set #11.
Now let's create the card base and sentiment. Trim a coordinating dark orange shade of cardstock to 3-¾" x 5″ and swipe an antistatic tool over it all. Then stamp the Fall Twig Background stamp onto it with Versamark ink. Sprinkle on clear embossing powder and heat set with your heat tool.
Next die cut white cardstock with the largest Nested Deckle Rectangle die. Then take your Versamark ink pad and press it to all of the edges of the deckle edge die cut. Sprinkle on the same copper embossing powder you used for the wreath, then heat set it. You can see this on the layer in the middle of the stack in the photo below.
The sentiment used for this card is from the Autumn Harvest stamp set. Stamp it with Versamark then add copper embossing powder and heat set. Trim the sentiment to a rectangle shape with your paper trimmer or scissors. Use a 1/8″ hole punch and punch holes in the corner of the sentiment. Add jute twine and knot each end to hold it onto the sentiment strip. Tie a bow with the jute twine.
Assemble the card: Use liquid glue to adhere the deckled edge layer to an A2 card base. Glue the orange heat embossed piece onto the deckled layer. Add foam tape to the back of the wreath and adhere to the card. Add a bit of glue to the back of each end of the sentiment and adhere it near the bottom of the wreath. Use a glue dot to hold the center of the twine near the top of the wreath. Use another glue dot (or liquid glue) to adhere the bow as shown in the photos.
Rubbernecker here again – is this not just so gorgeous? All that subtle shine and those beautiful toasty fall colors. Does this make you start to look forward to all that coziness of fall – pumpkin spice lattes or chai, cozy sweaters, that tiny nip in the air?
Here's what you will want to make this card AND Carol's beautiful spring card when that season rolls around again!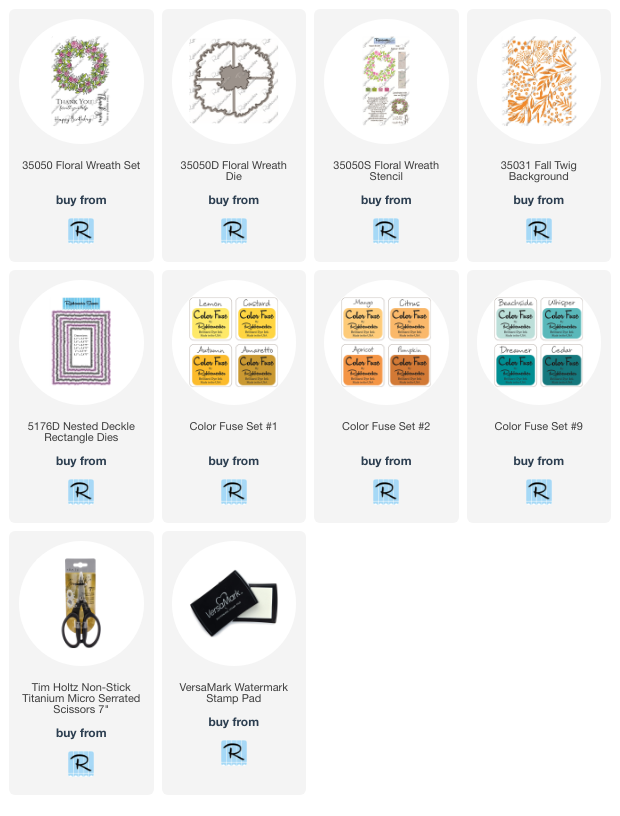 So here's a peek at Carol's spring card:
And here's her fall version again:
Did you ever think it could be that easy to change spring cards to fall cards? We sure love seeing these adaptations – it makes us look at our cards differently. How about you – has this sparked your own ideas about how you can change up your own designs?