Learn some fun and helpful embossing paste and stencil tips to make beautiful textures!
Today Carol is sharing some of her embossing paste and stencil tips to not just make this beautiful sparkly background but for how to make using these two tools together easier. Carol says "Stencils aren't just for inks! When you want a beautiful background that doesn't overtake the main image, use those stencils with texture paste!" We love this look and think you will, too, so let's get started.
First Carol created the stenciled layer:
She wanted to sprinkle white opaque glitter onto the wet texture paste, so she gathered all of her supplies to start: the Tree Branch Stencil, texture paste, spatula, silicone mat, a 6″ x 6″ piece of 80# Neenah white cardstock, her glitter and a coffee filter to catch the excess glitter. Because embossing paste can dry quickly, having everything at hand and ready to go gives you the best results and we love being reminded of this basic but so useful tip!
Another great tip Carol shares is to have a shallow bowl of warm water with a few drops of dishwashing soap handy. This is so you can drop the stencil and spatula into it so the paste doesn't dry onto them and make cleaning up a pain. You will be sprinkling your additional medium – in this case, glitter – and that can be long enough for that paste to try to become one with your tools.
Another great tips is to spray the back of the stencil with Pixie Spray. This will keep the intricate parts of the stencil adhered to the paper and will result in a perfectly textured (or inked) image! PRO TIP: Press the stencil onto some scrap paper a few times to remove a bit of the tackiness and keep the spray from sticking to your project.
If desired, tape the stencil and paper at the edge with removable tape to help keep the edges clean. Don't worry though, if you do go over you can always trim that area off with your paper trimmer. Remember, it's ONLY paper!
Use the spatula to spread the texture paste evenly through the stencil.
Remove the stencil (drop it in the water) and immediately sprinkle on your glitter using the coffee filter to catch the extra glitter so it doesn't go everywhere all over your work space.
While the stenciled texture paste dries, create the sentiment and wreath:
First use the Floral Wreath Stencil set with ink blending brushes or sponge daubers and Color Fuse inks to color the wreath layers. This wreath is has these inks: Lavender, Orchid, Magenta (Set #6) and Fern, Juniper, Clover (Sets #10 & #11).
PRO TIP: Clover ink was used over the Juniper ink to tone down the yellow-green shade. Remember, we formulated these colors to blend beautifully and this is a clever way to modify shades to your liking.
Place the image in a stamp positioning tool such as the MISTI.
Treat the cardstock with antistatic powder.
Position the Floral Wreath outline stamp over the stenciled image. Pick up the stamp with the MISTI door, ink the stamp with Versamark clear embossing ink and stamp. Repeat if necessary to get good coverage.
Sprinkle on silver embossing powder and use a heat tool to set it.
Cut the image out with the coordinating Floral Wreath die.
Add foam tape to the back of the wreath.
Stamp the sentiment from the Best Friends etc. set with Versamark onto white cardstock.
Add silver embossing powder and heat set.
Trim the sentiment into a strip with fish tail ends. Add foam tape to the back.
Die cut 80# white cardstock with the largest Nested Deckle Rectangle die. Add thin foam tape to the back and adhere to an A2 card base.
Use a soft brush (a paint brush works) to brush excess glitter from the texture paste stencils piece.
Trim the texture paste stenciled panel to 3-¾" x 5″.
Add thin foam tape and adhere to the card.
Adhere the wreath and sentiment to the card.
Gosh, it's just SO gorgeous! Here are the items from the store that Carol used: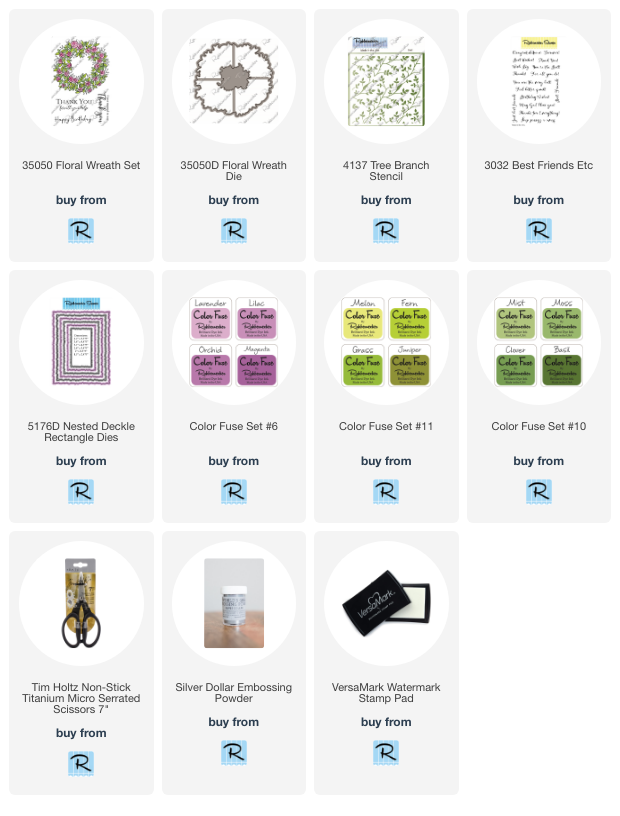 We are SO excited about Spring just about being here we had to have a little sale to help you all get your new season projects going. Go here to see all the items on sale through today, here to see even more items we are offering some deals on and here to see our exclusive Cheery Lynn dies also on sale. Maybe we have spring cleaning on our mind but we just love to give our friends and fans some savings when we can. Get on over there and load up your cart for less.
We hope your getting these embossing paste and stencil tips encourage you to try out using these things together. The sky is the limit when you learn how to add texture like this and we can't want to see your projects!