If you are looking for an idea for a cute Christmas card to mass produce you will want to bookmark this one!
Having a few ideas for a quick and easy Christmas card to mass produce is like having a few bucks in the bank. And this one is easy to create but doesn't lack any of the spirit of the season thanks to the touches of gold and a classic wreath shape. Jamie, who created this for us, says "You can do all of the die-cutting while watching TV" and since there are plenty of summer binge-worthy things on right now, we say "yes, please!".
Let's get the details and some tips on how to mass produce a nice big stack of these charming cards.
First, figure out how many of these cards you'd like to make. We are going to base the calculations here on Jamie's use of a square card. Adjust your calculations if you decide to go with a standard sized card.
For each card you will need:
One piece of dark green card stock cut to 5 ¼" X 10 ½", scored in the center;
One piece of white card stock cut to 5″ X 5″;
Decorative paper or dark green card stock large enough to cut our Holly #2 set three times;
About a yard of baker's twine for your wreath and bow;
Scraps of white card stock to stamp your sentiment;
Gold metallic card stock for the tag frame;
Gold embossing powder;
Six gold embellishments per card;
Twelve glue dots per card;
You will also need a circle die about 4″ across, a pencil, strong adhesive to add your bow, liquid glue or small glue dots for your leaves and to assemble your sentiment and dimensional adhesive to add your sentiment.
We are sharing the steps to make a single card and will add the mass production notes in each step after "MP". We are breaking these down in a way that will let you step away from your work when you need to.
Start by taking that circle die and center it on your white card panel. Lightly trace the die to give you a nice round guide. MP – trace all your circles at once.
Now place about 12 glue dots evenly around the circle. MP – you can do these ahead and use little scraps of the backing paper to stick onto the dots so you can stack them and/or not worry about them picking up any little hitch hikers.
Cut your twine to the right length for your circle; you will want to go around your circle twice with the twine. MP – make one wreath, note the length of twine you needed and then cut all the pieces of twine you will need for your batch of Christmas cards.
While you are handling the twine, use your favorite method for creating a multi-loop bow and make one you like for your card. MP – cut all the twine for the bows and if you have time, make them all now and have them ready to pop on.
Take your circle length of twine and lay it over your glue dots, pressing the outside loop to the outside half of the glue dots and the inner loop on the inner halves. Gently "roll" the two pieces of twine together going around the circle to help them "meld" and look like a single element. Be sure to gently press over the glue dots to make sure the twine is nice and stuck down.
Die cut your leaves – three sets for each card – from your decorative paper or dark green card stock. PRO TIP: splatter your card stock by mixing a little gold acrylic paint with a touch of water and use a brush to add some coordinating accents to your leaves. You can do this before or after die cutting. MP: Find a good summer flick and cut all your leaves out while you watch. If you finish die cutting before the movie ends, take a popcorn break!
Adhere three leaves on each side at the bottom of the wreath. Now add the bow in the center at the bottom. MP – you can do these steps all at once together or in two quick sessions.
Die cut the small tag from white card stock and the tag frame from your metallic card stock. MP – Plop down and do another all-in-one die cutting mini-marathon.
Stamp your choice of phrase – Jamie used on from our Mini Simple Sayings set – with VersaMark and heat emboss with gold powder. MP – This is something you will want to do one at a time since you want that powder to really stick to the ink for an even finish. If you have a nice long stretch, you could make all the tags one by one and assemble the sentiment piece with the frame with a small piece of scotch tape on the back. If you do this just be sure to add the dimensional adhesive to both pieces so they don't come apart with handling.
Add your white sentiment tag to the center of the wreath with dimensional adhesive. Then add the gold frame with more dimensional adhesive over and around the white tag. MP – You do these steps all at once or in the two stages.
Tuck two to three more holly leaves around the sentiment. MP – Ditto! Just another quick and easy step.
As a last touch, add your gold embellishments which is another quick and easy step in the mass production.
Aren't these so sweet? Simple yet festive and you don't need a huge pile of supplies. Here's all you need from our store and the other stuff you probably have on hand!: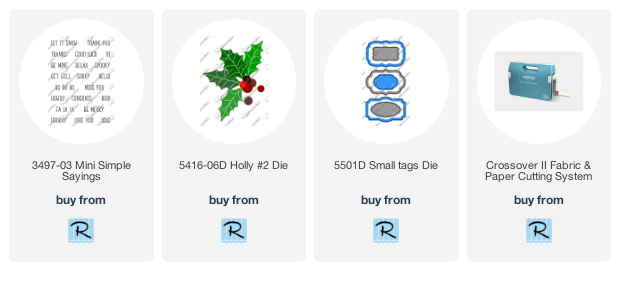 We do think this is a great example of a Christmas card to mass produce with easy, fast steps that you can chip away at when you have those precious slices of crafting time. Be sure to save this idea if you are planning on sending batches of handmade holiday cards this year!