Put a new "spin" on a cute handmade gnome Christmas card!
Today we have this very cute handmade gnome Christmas card from Annie and we just love the way she's set him against our pin wheel die cut to put a whole new "spin" on the most adorable holiday greetings! Annie says "When I saw the Offset Pinwheel Cover Die, I knew I wanted to turn it into a fun peppermint candy background for a Christmas card." Honestly, the way she's colored it, it truly does look like that "glass candy" you can get around the holidays! Let's dive right into how she's made it so we can make some, too!
Start by stamping your favorite character from our Donovan's Gnomes Stamp Set onto white card stock with black alcohol-friendly ink and color them in with your favorite alcohol markers; Annie used her Tombow ABT Pro markers. When you are done, cut out your Christmas cutie with our coordinating dies.
Now cut a piece of white card stock with our Off Set Pin Wheel Cover Die and save all the little insert pieces. Set aside the stitched pieces to color in the next step. Flip the die cut face down and insert all the little narrow frame pieces back into the base die cut. Using small pieces of dimensional adhesive, place them over the frame and narrow frame inserts to hold them all together. PRO TIP: Those little pre-cut foam squares or circles are super handy for this kind of thing.
Take the stitched insert pieces and arrange them approximately as they will appear ont he card. Blend Grass Color Fuse Ink from Set #11 and Nectar Color Fuse Ink from Set #4 over the inserts with a blending brush, concentrating the color toward the piece of the die cut that will be at the center of the pin wheel to add lots of depth.
Then using our Random Dots Background Strips Stamp set, apply Grass or Nectar Color Fuse over the matching pieces to add some texture.
Using our Slimline Four Corners Circle Die, cut a piece of white card stock. Save two of the little tags for other projects and stamp your sentiment onto the third with black ink. (If it's easier, stamp first and then die cut.)
Now assemble! Adhere the due cut pin wheel frame to your card base using that dimensional adhesive you used to hold the pieces together. Using liquid glue to give you some adjustment time, adhere your inked stitched pieces into each little window, fitting them all together like a puzzle.
Adhere your star of the show Gnome onto your card with his hat overlapping the center of the off set pin wheel – use more dimensional adhesive for more fabulous shadows. Add your sentiment the same way and then add a few white gems spinning out from the center for some visual movement.
Can you even? Is this not just SO cute? And, when you think about it, it could be a great batch card because each step can be done separately from the others. Here's what you will want to have from our store to make this truly festive project: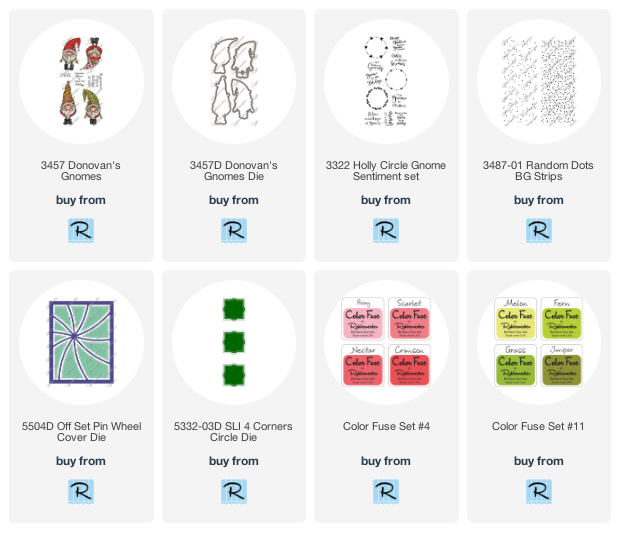 If you are looking for something whimsical and fun, this cute handmade gnome Christmas card has to be at the top of your list! Make sure you come back every day for more of our Christmas in July projects!