If you love to watercolor, this Christmas wreath card will be as much fun to make as it is to send!
A classic Christmas wreath card is always a good go-to theme and we absolutely LOVE what Melinda has done with this pretty stamp and one of our new stencils. The combination is magical! Let's check out how to make one for ourselves.
Melinda started by stamping our Wreath with Berries stamp in a very light color of ink onto some watercolor paper. While it was drying thoroughly to avoid any bleeding, Melinda mixed up some Ken Oliver Color Bursts with water for her watercoloring medium. You can, of course, use your favorite!
Melinda used layers of color to give the richness to the berries and foliage making sure to let each application dry completely in order for those layers to build. Layering when wet will allow the layers to merge where waiting for them to dry builds the color.
Melinda started with lighter shades of green and pink and darkened her colors as she added layers. You see where her partial coloring of different elements in her images add all that beautiful shading and dimension.
Next, for her word element, Melinda cut one scrap of white card stock and THREE scraps of black with our Smile #2 die. She "smooshed" (a very technical term!) the white die cut onto a gold pigment ink pad to completely cover the white. When it was completely dry, she glued all the words together with liquid glue to make a nice, thick element.
Now she turned her artistry to that beautiful stenciled background (or is it a "back-surround"?). She used our new Brick Stencil and blended the same gold pigment ink around the wreath. By stenciling near the wreath but not up to a mask, a "halo" of space is left around the stamped element which will help to make it look like it is floating over the background. So cool, right?
When that was also completely dry, she laid her "Smile" over the wreath and determined where to add her sentiment. PRO TIP: Be sure to use a stamp positioner to add your sentiment to avoid an oops on your beautiful panel! She stamped the sentiment with Versafine Clair ink and then adhered the die cut over it with some more liquid glue.
The last step was to add this pretty panel to a black card base and it was ready to go!
If you've fallen in love with this like we have, here's what you will want to order to make these for your own holiday card sending.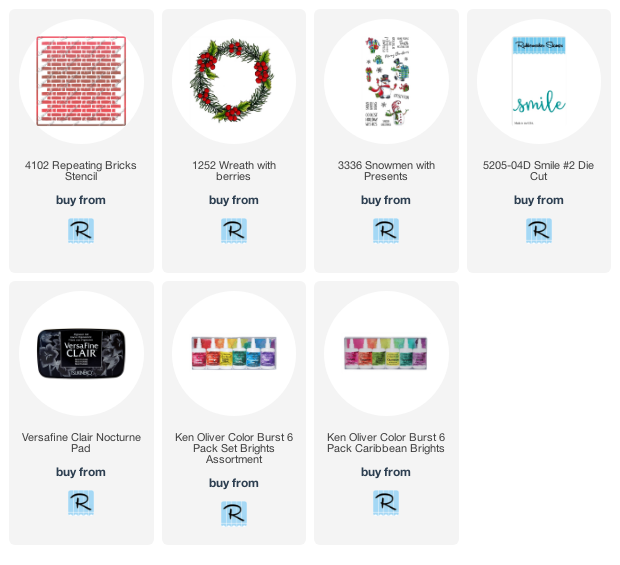 This Christmas wreath card is just different enough to be special enough to send to anyone. The beautiful effect from the watercoloring and the wreath's appearance of floating thanks to the stenciling adds tons of dimension without extra thickness. Save this idea because we know you will want to try it out!