Cute snowman Christmas cards are always in style and these are so fun to make!
Many of you have said that you love ideas for cards that can be used for lots of reasons and these cute snowman Christmas cards totally fit the bill. Even though it is created as a winter card, it's a perfect non-denominational card for the holidays. Let's see how Carol made it and pick up her tips for using Copics to add all the vavoom!
To start, Carol die cut a piece of white card stock with the largest die from our Nested Rectangle Scalloped set. While she had her die cutter out she also cut a piece of red card stock with the largest die from our Nested Rectangle Small Stitched set.
On the scalloped panel, Carol stamped the large evergreen tree from our Woodland Animals Set #1 in Copic safe ink and colored it in with some shades of green Copics. Now for one of her Copic tips! She used a BV20 – a gray with a bit of lavender in it – to sketch a couple of hills in the background. Using a gray with purple (as opposed to a gray with green or, say, brown) in it creates the illusion of a shadow with just that one line.
To emphasize that look of a shadow (which you can clearly see in the finished project photos), Carol blended these lines out a bit with Copic colors C1 and C0 – two very cool grays, and a touch of B0000, a very pale blue. These shades emphasize the shadow of the original lines so perfectly. Carol also added a teeny bit of sparkle to the tops of her hills with a clear glitter pen. Then, to "echo" her shadows she added a touch of color to the sky by blending a little Arctic Color Fuse ink – another very pale blue similar to the Copics she used – with a foam ink blender. She didn't even use a mask – just buffed the color around the background. This isn't a "Copic" tip but it's an awesome coloring tip! When she had this little scene done she stamped the sentiment from the same set in the upper right hand corner with Versafine Onyx Black ink.
Next, Carol stamped her images from our Snowmen With Presents set in Copic-safe black ink. Carol's first excellent Copic tip – and it's a great tip all around! – is that she chose just a few Copic markers in reds and greens to keep everything cohesive and to make it easier to color in her images. When she was done coloring, Carol used our coordinating die to cut out all her images. NOTE: You will see extra snowmen in the photo – Carol wasn't sure which one of our frosty fellas she wanted to use and in the end, she decided to use only one on each card, meaning she got three cards out of this little session.
Now Carol put her cute snowman Christmas cards together! She adhered her white scalloped panel to her red die cut panel and then adhered those to her card base. She added the gifts to the snowman's hands with liquid glue and then popped him onto the card with some foam tape. She added some snowy details to the tree with a white pen and then added one more "dropped" gift with more dimensional adhesive and – Voila – SUPER cute card done!
Here are the things from our store that Carol used today: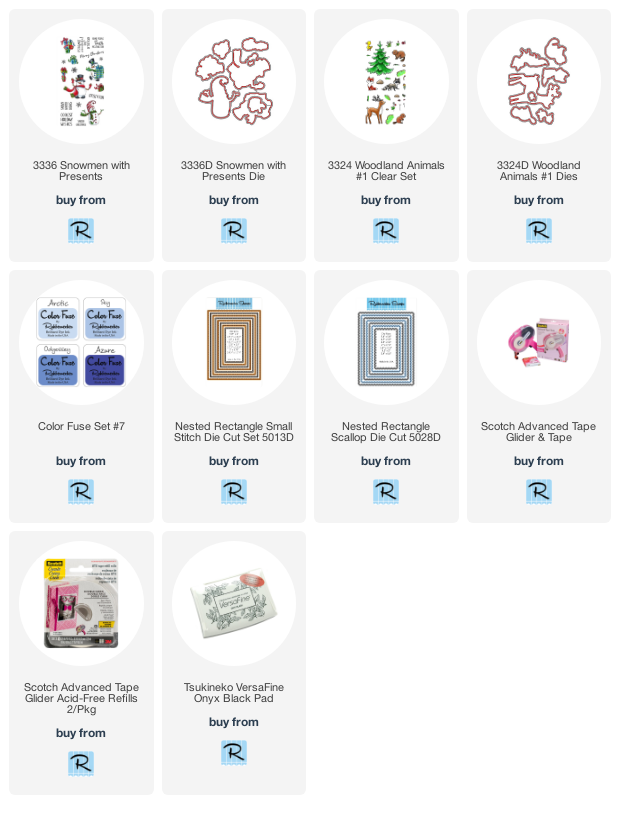 We think these cute snowman Christmas cards would be a real hit with your friends and family. The idea is so sweet that even if you wanted to send more traditional cards for the Christmas holiday, these cards are perfectly suited to so many other snowy occasions!