Christmas cards with owls on them are enduring in popularity and today's is just adorable!
Everywhere you look, you see Christmas cards with owls on them and we think we can see why. They are SO stinkin' cute! And WHOoooo doesn't love owls? When today's designer, Renee, saw this little feathered fella she thought "Home for Christmas" and when you think of where an owl lives you just have to think of a tree, right? So let's see how she put this together.
Renee started by stamping our Owl With Bird on Sled, colored it in with her markers and then cut it out with our coordinating die.
She also stamped her sentiment with Crimson Color Fuse ink and then used one of the dies from our Nested Oval Scallop set to cut it out. Then, using our Winter Bouquet stamp set, she stamped the layered berries using Color Fuse Set #4 and the leaves with Color Fuse Set #10, cutting them out with the coordinating dies when done.
Now Renee turned to creating the beautiful wood grain panel for her background. She used kraft card stock and stenciled some dark brown distress ink through our new Wood Grain Stencil with a blending brush. When it was completely dry, Renee cut it out with one of the dies from our Nested Square Stitch set.
Now it was time to bring everything together! Renee added her wood grain square to a very slim mat of black card stock with tape and then attached the two layers to her dark green card base with some dimensional adhesive. She then added her sentiment to the center, her winter foliage to one corner and her sweet little owl friend opposite that, all with foam tape. Last, for a festive touch and some decorative balance, Renee added little groups of red enamel dots to the other corners.
Adorable! Here are the items you will want to have on hand to reproduce this card: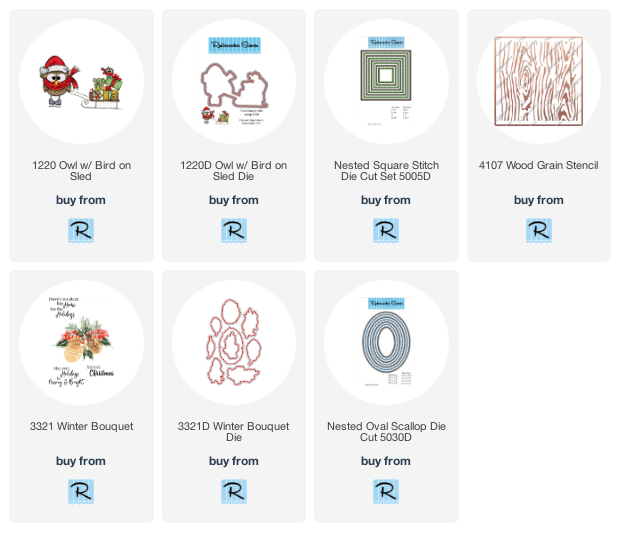 There are loads of different styles of Christmas cards with owls on them and we really love this simple, sweet nod to that theme. If you make one or on hundred, your friends and family will just love them!