Get some awesome tips on making this absolutely gorgeous Color Burst rainbow tree card!
This beautiful Color Burst rainbow tree card has a little secret that gives it the most beautiful finish and it's SO simple. We are pretty sure you will want to dig out or order these Color Burst powders AND start using Melinda's trick to make this card something just that much more special.
Let's get all the scoop!
Start by wetting a 5″ x 7″ piece of watercolor paper. Sprinkle your red Color Burst powder over the top third, the yellow in the middle and then the blue powder over the bottom third. Don't worry about getting this exact!
Watch the colors bloom and then take a damp paint brush and move the color around where the bands of your original colors meet to create an orange at the top and a green below.
Let this panel dry completely and when it is bone dry – damp watercolor paper tears and dry watercolor paper cuts cleanly – cut across your bands of color three times using our Evergreen Forest die. Also cut four more Evergreen Forest pieces out of white card stock.
While you are letting your Color Burst rainbow panel dry, cut another piece of watercolor paper with the second largest die in our Mini Slimline Nested With Stitch set. Dampen the paper with a wet brush and then add just a touch of color using Sonata Color Fuse Ink from Set #8 and Grass Color Fuse Ink from Set #11. You're looking to add just a hit of color in the "far away" background.
Take your tree layers and loosely layer them over your background die cut piece. Align them so you can see the "best" parts of the coloring and trim them on the sides to fit the panel.
Line up your tree pieces again to see where they will be added to your background. Adhere the top most trees – the red – to the background. Now – and here's the cool tip – adhere two of the white Evergreen Forest die cuts together, adhere the orange-to-yellow die cut over them and trim the edges. Adhere this assembly over the red trees . Repeat this with the green-to-blue piece, using thin dimensional adhesive to add eve more depth.
Now, layering die cuts together isn't new – we see it a lot with die cut sentiments because this does add both sturdiness and visual weight. But doing it here – with layers – adds such substance and dimension that the effect is much more than you would expect.
Melinda added her little custom sentiment by choosing words from our Shadow Words set, stamping and trimming them close and added them to the lower right corner of her card. You can, of course, choose whatever you want to use but we love this rustic look of the words over the trees.
Now make your frame by using the largest and second largest die from the same mini slimline die set, taping them together with some low tack tape and zipping it through your die cutting machine.
Using Magenta Color Fuse Ink from Set #6 and blend it over the frame to create an ombre look from darkest at the bottom to palest at the top.
Adhere this over your assembly with some thin dimensional adhesive. PRO TIP: smear liquid glue over the sticky side of the dimensional adhesive to give you some time to wiggle the frame into the perfect position.
Gorgeous, right? Here are the items Melinda used today to make this card so you can try this out at home.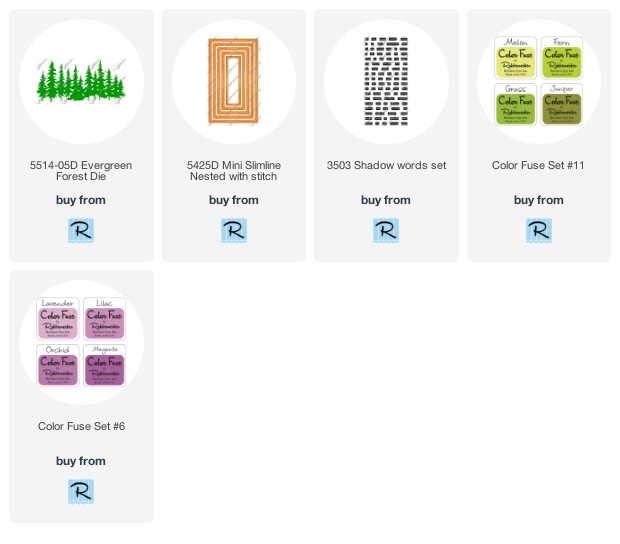 We love cards that rely on the variation of coloring to add all the drama and this Color Burst rainbow tree card does just that! Experiment with your favorite colors and see what you come up with!