We are in love with this adorable unicorn slimline card done in fun Fall colors!
If you were lucky enough to receive this cute and sassy unicorn slimline card in the mail, it's a safe bet to say that you would feel as special as these fun little friends bringing you some smiles in those pretty Fall colors. The extra special bonus is that this card is also a shaker card, adding some interactive fun. Lisa created this for us today so let's dig in and get her juicy details!
Lisa started by stamping and cutting out these characters using our Unicorns stamp set and coordinating die. She colored them in with her Copics, adding that fun Fall rainbow to their majestic tails, manes and the "lift off cushion" of the little critter who is doing their best to illustrate the sentiment.
Next, Lisa use our Slimline OPC Scallop Die to cut a piece of white card stock. Using a gel print Lisa made with our Swirls Stencil and Bubblegum, Apricot and Lemon Color Fuse Inks – from Sets #5, #2 and #1, respectively, she cut a piece that would fit under her slimline window die cut.
Lisa trimmed a piece of acetate to fit her slimline window die cut and adhered it to the back, adding foam tape around all the edges and across the center sections to make a secure space for her shaker filler.
Next, Lisa made her white slimline card base and layered a bright yellow piece of card stock over it leaving a ⅛" border around it. She centered gel print panel onto the yellow piece and then, adding a pinch of shaker filled to each third of the gel print, carefully popped her window piece over this. PRO TIP: smear some liquid glue over the sticky side of the foam adhesive to give you some wiggle time to get it lined up perfectly.
Lisa then cut a scrap of white card stock wit the smallest die in our Nested Rectangle Small Stitch Die Cut Set and, using her stamp positioner, stamped her sentiment with her picks of Color Fuse Ink using this fun mini-technique to create a rainbow effect.
Now Lisa added her unicorns and sentiment to the card with thin dimensional adhesive and with just a few sequins around them, this card was ready to truly delight someone as special as these mystical creatures.
Here's a closer look at the unicorn who is either blissfully unaware of the other unicorn's issue or ignoring their silliness entirely:
And a closer look at the adorable perpetrator:
So cute! Here's what you will want to get out on your table or add to your cart to make this card: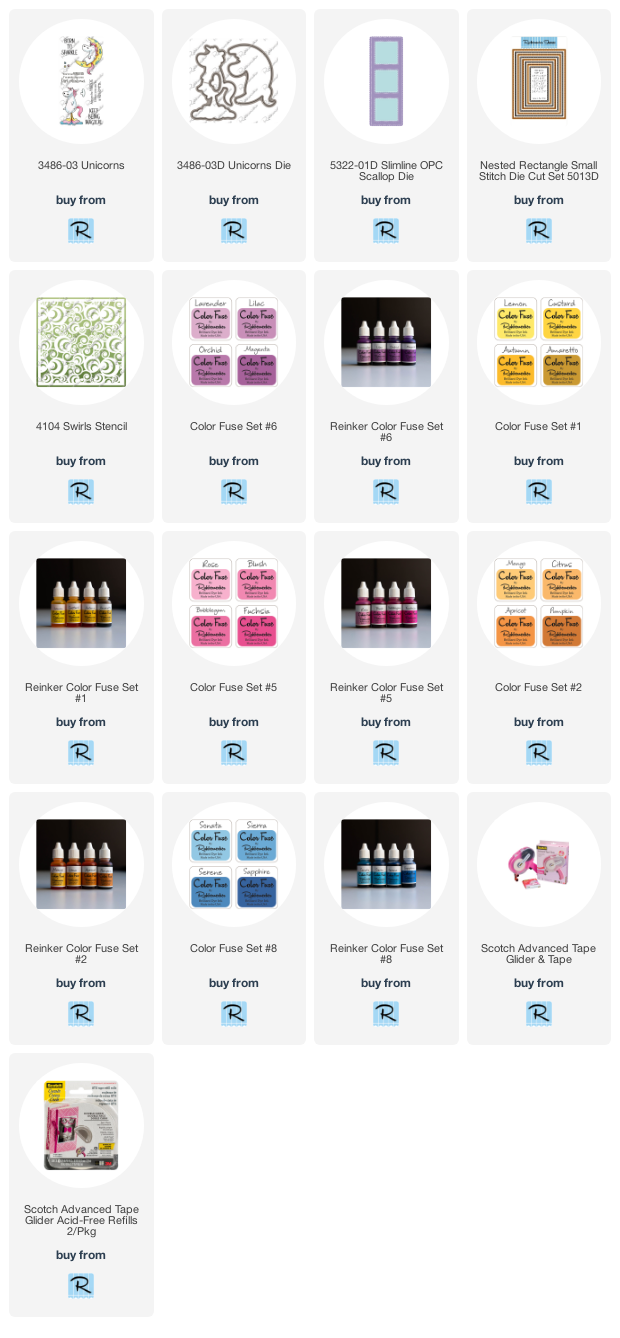 Sometimes a little irreverence is just what you need and this card is both tasteful and sassy! And it would be an ideal card to send to someone who doesn't mind laughing out loud at something really silly! Bookmark this idea for this cute unicorn slimline card because at some point you will want to grace someone's mailbox with a good guffaw!