Wait until you see what acrylic paint on gel plate stenciling can do when you add foil to the mix!
Lisa is back with more of her amazing backgrounds and today she's used acrylic pain on gel plate stenciling and then adding FOIL to make these beautiful panels absolutely POP! She's even sharing a fun little video showing just how easy these are to make. And we have to say, that even without the foil, these backgrounds are so colorful and dimensional and just plain FUN. You just have to try them out! Let's take a closer look!
Lisa started by stamping, coloring an cutting out her images from our brand new Every Summer set. Lisa used her Copics to add all that cute shading and details and you can use whatever you love the most!
Then Lisa created her gel print backgrounds using acrylic paints, her gel press plate and our Swirls stencil. She used a variety of blues and "double printed" her panels to get both the stenciled over design and then the "leftover" design. It's almost impossible to put into words, so here's a great little video that shows Lisa in action.
Doesn't she make it look so easy? It is an easy technique however Lisa sure has that magic touch!
You can see at the end where Lisa uses some Rainbow Deco Foil – which will stick to acrylic paint as long as it's not too dry – with her Minc machine. As we said, if you don't have this machine, no worries – your acrylic paint on gel plate stenciling will still look AH-mazing!
When Lisa had created all her backgrounds, she die cut the one for today's card using the largest die from our Inside Scallop Frame die set. She layered this onto a piece of white card stock cut to 4 ⅛" x 5 ⅜" and then layered that onto a turquoise panel cut to card front size.
Then Lisa used the same die set to cut the largest frame (the one just inside the one she used to cut the panel) from white card stock and adhered it onto her background using some dimensional adhesive.
For her underwater sand, Lisa cut a strip of kraft colored card stock using one of our Slimline Hills dies and dabbed embossing ink all over it. She then applied some Ranger Mixed Media powder over that and heat embossed it to create that gorgeous sandy look. She trimmed this down and adhered it inside her white frame.
Now Lisa arranged her cut out cuties inside and slightly overlapping her frame using varying thicknesses of dimensional adhesive, entwining some of them to give that underwater "sway".
For her SUPER cool, two toned sentiment – a tip we are totally stealing! – Lisa put her card stock into her stamp positioner and partially inked up her sentiment in Lilac Color Fuse Ink from Set #6 and stamped. She then cleaned the stamp – obviously without moving it – and reinked it on the "other side" with Dreamer Color Fuse Ink from Set #9 and stamped again. She let some of the two inks overlap a tad to make a third color – is that not the COOLEST thing?
She then trimmed that into little strips and added them to her card with more foam tape.
We can't even – this card is just SO adorable!
If you just HAVE to make this card – we know, we get it! – here are the things from our store that you will want to get your hands on: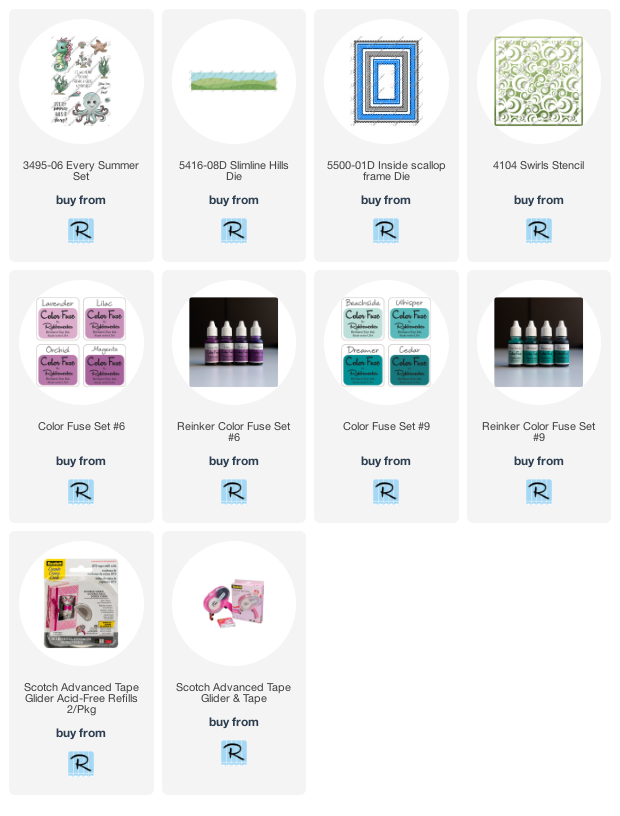 Are you just itching to try acrylic paint on gel plate stenciling? This easy technique can, of course, be done with any stencil so while you wait for your goodies to arrive in the mail, try out what you have and see if you don't come up with something just as gorgeous!