Did you know you can color a windy background with markers? Truly, you can!
When Melinda first saw this new stamp set she said she immediately pictured the girl bringing home her flowers from the market on a windy day. So she set out to color a windy background with markers and my word – she nailed it! Can't you just feel those soft, sweet scented gusts and breezes puffing around our flower bearing friends? Want to see how you can achieve this look? Read on to see how Melinda made these two cards.
Start by stamping the Flower Girl image onto a white card sized panels of card stock with alcohol friendly ink. Color the flowers with your favorite shades to fill in those details before you add your wind.
Choose three lighter blue markers with closely related shades and intensities. This will help make those suggestions of air movement seamless.
Swipe the darkest color marker first, going over the swipe with the next lightest and then again with the lightest shade.
This creates borderless, fully blended areas of color and helps keep the eye moving across the scene, creating that sense of movement in the background itself.
Now fill in the skirts and the wrappers. Melinda used pinks for the skirts and browns and warm greys for her wrappers. Add the darkest shades where there are the deepest areas, going to lightest shades over these as you come closer to the foreground.
Using greens, add some grassy areas below the girls' feet. On one card Melinda created a deep green surface and on the other, she added dark green shadows on a lighter ground for a shadow.
Melinda used our Inside Scallop and our Nested Rectangle Scallop die sets to cut her colored panels and white card stock to layer onto her card bases. The pink "frame" you see is actually a marker colored over a panel to leave a perfectly matching border. Smart!
While the cards are a little different, they are both just stunning and we can absolutely hear and feel that wind!
Here's what you will want to pull out or add to your card to make these adorable cards: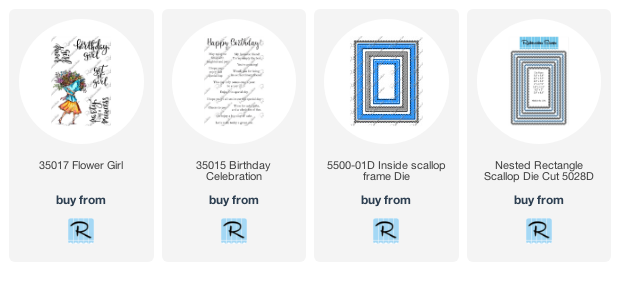 We never really though about how to color a windy background with markers but now that Melinda has shown us how, we can see LOADS of ways to use this fun technique! How about you – what kinds of cards and designs will you try this with?