See how to use one of our favorite colored pencil techniques for a striking look!
We are betting that somewhere in your stash you have some colored pencils and haven't really thought about colored pencil techniques in a while. Well, today Melinda is going to inspire you to dig out your perhaps forgotten colored pencils and try out this use of beautiful vibrant bright colors over darker card stock. Don't those blossoms practically glow? Let's dig in and learn how Melinda made this card.
Start by stamping the largest flower from our new Heavenly Hydrangeas set in Chill Color Fuse onto gray card stock. Melinda chose to stamp in her lower left corner knowing she was going to add another focal element in the opposite corner. Stamp a second time (you don't have to reink) onto some masking paper (a Post-It note works too) and fussy cut right up to the stamped line. PRO TIP: You can use the die to do this BUT we leave a very fine border around the stamped edge when we engineer the die. Because you want the flowers to look like they are draping over the flowers, fussy cutting gives you a closer cut for this use.
Place your mask over your stamped image and then stamp the leaves. This masking and stamping lets you create designs that look like they are overlapping. Repeat this stamping and masking in the upper right corner with the medium blossom. (Melinda stamped the images on white paper so you could see how the masking lines up so nicely.)
Now on to the coloring! Melinda suggests starting with the yellow centers so you know where the petals start to help with your shading. She says "sometimes when you get coloring you can get confused as to what goes where" and we've all been there! Melinda chose 4 to 5 yellow to green and 4 to 5 blue to purple colored pencils to allow for the shading and gradients that these images beg for.
Melinda suggests starting with your lightest shades and coloring the darker colors over them for that deep rich look. Keep your pencils nice and sharp and don't press to hard – let the layers of color add the pigmentation to get the depth you want for the best results.
When your coloring is all done, cut your panel with our largest Nested Inside Scallop die. Take the smallest of our Nested Pierced Rectangle dies and place it over a portion of your colored flowers, secure in place with some of the washi tape you got that you hate and cut. Yes, that's scary but you will love the results!
Take that die cut piece and stamp your sentiment onto the upper portion. Use your stamp positioner if you are using rubber to make sure it goes on straight.
Adhere your card panel to a dark blue card base. Take your die cut piece with your sentiment and adhere back into the space left from cutting it out with some foam tape. All that's left are a few little gems for some sparkle and this card is ready to share!
Here are the goodies Melinda used today: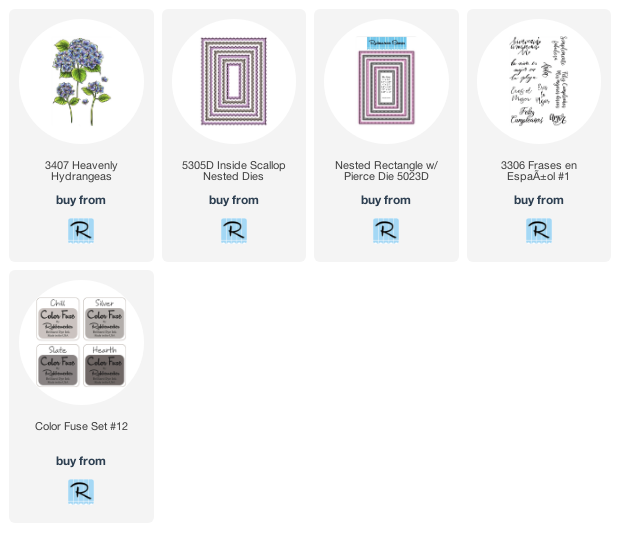 Doesn't this exquisite card make you want to dig through your treasure trove and try out some colored pencil techniques? We love revisiting classics and this card is a great example of how spectacular colored pencils can look over dark card stock!