Use a Die Cut to Make The Perfect Cloud Stencil!
We love seeing our tools being used in ways that make them even MORE purposeful and today Lisa has made just about the most perfect cloud stencil for her billowy background for our frolicking foxes. Lisa says "I just love ALL the foxes in the new Be Wild stamp set so I decided to make a card using them all." This set is very popular and we can't imagine what will happen after this post hits the airwaves – this card is THAT cute!
Let's get Lisa's pro tips for creating this adorable card. She started by cutting two card layer sized panels of white card stock with one of our Nested Rectangle Small Stitch dies. She then cut a strip of card stock using our Slimline Clouds die to create her stencil.
Lisa laid this strip over her rectangular panel starting near the top and blended two shades of Color Fuse ink from Set #8 over this stencil. PRO TIP: start blending out from the stencil toward the stencil edge for best results and a smoother blend. You want your color saturation to be darkest nearest the stencil edge.
Once you've inked that first cloud stencil line, move the strip down and to the left or right to give the rows of clouds some irregularity. This will add tons of texture and more shading. Keep repeating moving the cloud stencil down and to one side until you've filled your sky area.
Take that second die cut rectangle and blend some shades of green from Color Fuse Set #11 with the darkest at the bottom. Now cut one strip of grass in the darker area and the hills in the lighter area. PRO TIP: Cutting the panel with the rectangle die first ensures you have the same stitched edge on your added layers as your background.
The cloud background is attached to a very fine mat layer of pale blue and then attached to the green card base. Arrange your green layers, trimming as necessary to test fit them on the bottom of your background layer. When you have them arranged the way you like, adhere the hill layer with tape and the grass with thin foam tape. Lisa added a little vertical interest with some evergreen trees blended with the same Color Fuse greens and added them to one side of the scene.
Now that your scene is set, stamp your fixes and mice, color them in with your favorite medium and cut them out with the coordinating dies. Lisa chose a silvery gray for her foxes and they are just perfect against the stronger blues and greens!
Add some "dandelions" by stamping in the darkest green and adding some tiny dabs of yellow Nuvo Drops along the tops. Choose some tiny flowers for some color accents – here Lisa used the teeny blooms from the Lambs and Flowers set – to stamp, color and cut out. Lisa used the same colors on the flowers as she did on the ears of her friendly fellas, creating a beautiful color "echo".
Arrangement time! Move all your little parts and pieces around until everyone is positioned the way you like. Start adhering them with varying thicknesses of adhesive and foam tape to get a cute, multi-dimensional vignette.
Choose your sentiment from the huge selection in this set and stamp and trim as you like. Lisa saved one little bloom to accent it and we think it looks perfect!
Here are the fun things Lisa used from our store to complete this absolutely adorable card: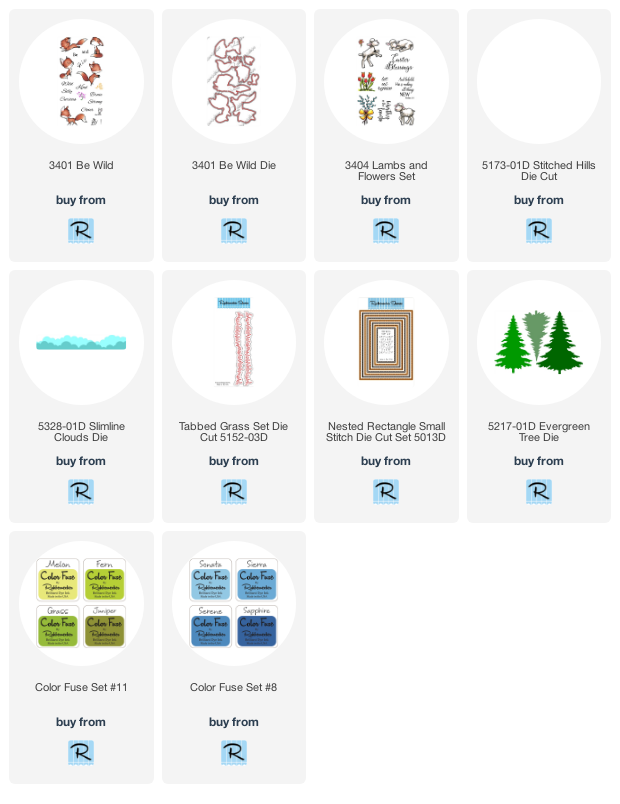 Who knew a cloud stencil made from a die cut could create such a captivating background? We are so glad Lisa saw this opportunity because we keep looking at our die cuts to see what others would make awesome stencils!