Have you ever tried coloring directly onto stamps with markers? Did you even know you "could" do that? Today, Melinda, one of our new Design Team members, has created a simply gorgeous card for us using this WOW technique. We just love that she used a spring/summer stamp and created a perfect winter card by using her beautiful cool palette of blues and silvers.
You will want to use a stamp positioner, like the Misti for example, for this to keep the paper still while you allow the watered down ink to sink in AND in case you want to fill in any areas with a second stamping.
Line up your stamp and a card sized piece of watercolor paper in your positioner. Use your watercolor markers to color in the images directly onto the stamp. NOTE: alcohol markers dry way too quickly for this technique – save those for coloring on paper! PRO TIP: You can color darker over lighter without picking color up on your marker tip but not the other way (lighter over darker). So for details, color with your lightest markers first, working your way up to the darkest ones on the details.
When you are done coloring directly onto the stamp, give the whole thing a misting with a few gentle sprays of water – you want a true mist, not droplets. Stamp the image onto the watercolor paper and hold for a few seconds to let the water and ink really sink in. Lift and check to make sure you like what you see and then set aside to dry completely.
While your beautiful, custom colored panel is drying, stamp your sentiment on a piece of watercolor paper and cut it out with the Pierced Circle die. Then cut some leaves from the Small Leaf Group Die from silver paper. Melinda's PRO TIP: If you don't have silver paper, make your own! Use a gray marker to color on some watercolor paper and move it around with a wet brush. When it's dry (you can speed that up with your heat tool), spray with mica spray or use any shiny/sparkle medium you have to create that sheen. Great tip!
Now you can build your card. Cut your stamped panel with the Nested Inside Scallop Die and attach it to your card base with some foam tape. Add the circle sentiment with more foam tape and then place your silver leaves around the sentiment circle. Another PRO TIP: Use a single leaf from the die cuts to cover up any joins of the other die cuts.
SO PRETTY! (Sorry – we shouted because we love it!) Here are the goodies Melinda used on today's pretty project: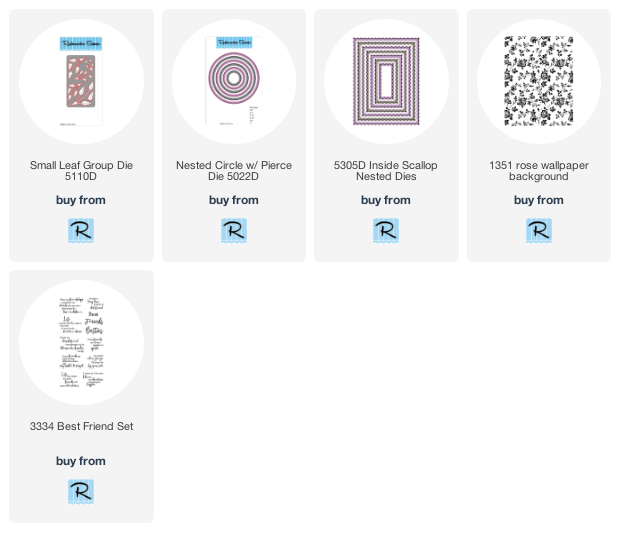 We don't know about you but we couldn't stop looking at our stash and figuring out where we wanted to start coloring directly onto stamps for our own custom looks. Please, if you try this out, share your results on our Facebook page so we can be inspired by YOU!