Creating gorgeous Copic marker flowers is a huge passion of many of our lovely customers and fans and we've created LOADS of flower items including tons of stamp sets, many with coordinating dies, to help you be in coloring heaven. Today, Preeti is showing us how she takes inspiration from images she finds on the web to create her Copic marker flowers to look as realistic as possible and, well, we are BLOWN away! Is this card not STUNNING? In today's Stamp Along With Rubbernecker, Preeti is sharing her amazing Copic coloring talents and showing us how we can make a "Floral Frame" card just like this!
Preeti used our new Darling Dahlia stamp and die set – one of four brand new floral stamp sets just released (and going like mad!) which includes some beautiful sayings just for friends. We recognize that this past year friends have become even more important and we wanted to honor those people who've helped boost us, care for us, make us smile and feel loved with something a little special just for them.
Preeti also used this image that she found on the web to inspire her coloring:
c
When we design our stamps we try to include enough shading to give you a guide when coloring but not so much to detract from the detail you add. Our four new latest sets including Heavenly Hydrangeas, Poetic Peonies, and Precious Poppies along with this one were all created to give you maximum coloring opportunity but also be able to stand on their own. Apparently, you all love them and we are so glad! Do you have a favorite yet?
Back to this exquisite card. It's actually fairly easy to put together using the concept of repetition and arrangement. Preeti is going to show us all her magic in the video below but you can start by stamping your flowers and leaves in your favorite Copic-friendly ink and color your images using whatever inspiration you like to use. Die cut the flowers and fussy cut the leaves.
Now cut a white frame – here Preeti used two nested rectangle dies but you can use any shape you like. Arrange your flowers and leaves around the frame and when you have them the way you like them, adhere them with varying thicknesses of dimensional adhesive. Be sure to cover the whole frame – this is what makes this design so dynamic!
Now emboss your sentiment on your card base – Preetie used "Friend" and stamped in white on pale gray (we LOVE that light gray with the shadows!). Adhere your frame with foam tape to your base. Now add that fabulous friendly sentiment by stamping Versamark on black card stock, embossing with white powder and trimming to whatever shape you like. Add this over the flowers.
All that's left for the front is a little bling. Now because this is such a special card, Preeti decided to add some design love to the inside, too. This is always a fun way to add some unexpected extra message to someone. She adhered one of her beautifully Copic marker flowers to the inside with liquid glue and added more of those popular Friend sayings inside. Wouldn't receiving this card make your heart sing?
Grab some coffee, tea or cocoa, get comfy and dive into today's Stamp Along With Rubbernecker!
Here are the items from our store that Preeti used today – note that all those fabulous greetings are part of this new Darling Dahlias set!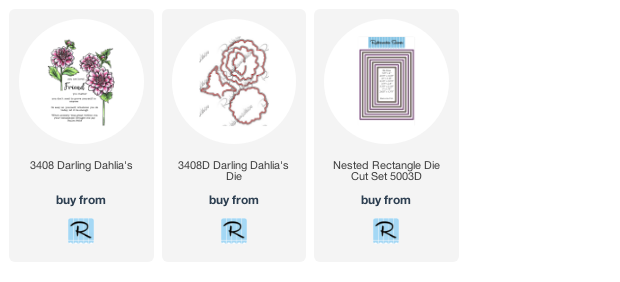 What do you think? Are you inspired to spend some quality time this weekend making some Copic marker flowers for your cards? Spring is coming and our new floral stamp sets are just perfect for all kinds of spring cards so be sure to check them out and order before they are sold out!