Today, our first cute hand stamped unicorn card using one of our brand new sets!
Unicorns aren't for everyone but as Annie says "there's something about the goofy and chunky characters in the new Unicorns Stamp Set that I think gives them mass appeal" and when you see this cute hand stamped unicorn card we think you will all agree with her! Annie created this for us and she's giving us all the inside scoop to try it out ourselves – let's get started!
First, stamp this relaxed little cutie from our new Unicorns Stamp Set on white card stock with black alcohol-friendly ink. Color him in with your favorite alcohol markers – Annie used her Tombow ABT Pro Markers – and then cut him out with our the coordinating die.
Take a card panel sized piece of navy card stock and using the stars strip from our new Stars/Wavy Background Strips Stamp Set twice onto the panel, side by side, with Versamark Ink. Even though these stamps are designed to easily align side by side, remember that your top panel will disguise any unevenness. Heat emboss your stars with silver sparkle embossing powder
A quick note – thank you for all the feedback on these new background stamps. We love combining different designs and we love hearing that you are all digging the combos! It's fun to be able to provide you two designs in one package!
Using the largest die in our Mini Slimline Tabbed Deckle Die Set. To layer this die cut piece, trim a piece of silver glitter card stock to about 3.5″ x 5.5″ and adhere your die cut panel to it using a strong liquid glue. Glitter card stock can sometimes be adhesive resistant so use something nice and sticky!
Now take your white card base and using Chill Color Fuse Ink from Set #12, stamp both edges. This will allow the pattern you've embossed on your blue to "spill" over onto the whole front of the card.
Stamp the sentiment from the Unicorns set onto a scrap of white card stock with Azure Color Fuse Ink from Set #7 and trim it into a tight square. Then layer that over a scrap of the same silver glitter card stock to give a narrow border.
Now you can assemble! Adhere your center panel construction to your card base with some dimensional adhesive. Then add your mellow fellow and your sentiment to the pane with more dimensional adhesive.
Now hold it out at arm's length and admire……
Talk about adorable! And perfect for so many card-sending reasons! Here are the goodies Annie used to make this for us – be sure to grab up all the new goodies now before we get to gotta-get-more status!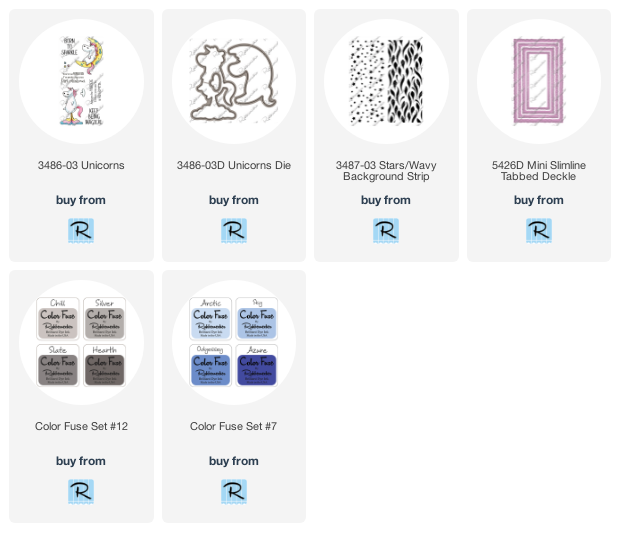 This cute hand stamped unicorn card is just one of many project ideas coming your way in the next few days made with the new items just released. Come back every day to get inspired and to share some smiles with us!