Grab this idea for super cute handmade slimline holiday cards that you can adapt to your favorite theme.
There are lots of people looking for ideas for cute handmade slimline holiday cards this year. There's something about all that extra space to write (or fold that family update into) AND when you send a slimline card, you know yours will stand out on the mantle!

Now you would think that we are selling only one stamp set this year – our Polar Bear Friends. This stamp set along with its available coordinating die got a TON of attention from our Design Team because it is unique, has a lot of character and is easy to use to make stand out cards.

Today's from Jamie is no exception – this card is easy to make, is absolutely adorable and can be used as a Christmas, holiday or winter card with just sentiment swaps. Shall we get her 4-1-1 on the making? In Jamie's own words, let's get started!
Stamp three of the bears from the Polar Bear Friends Set on white cardstock with black ink and color with colored pencils, then use Polar Bear Friends Dies to cut them out.
Die-cut snowflake paper from the Snowflake Fun Slimline Paper Pad using the largest die from the Slimline Nested Stitched Die set.
Now die-cut this piece again by placing the Slimline Inside Circles Dies in the center of the cut panel and run it through your die-cutting machine a second time. I used the Crossover ll Paper Cutting System since it has a wheel at the top of the machine so you can adjust the pressure. So, you can run dies and embossing folders through it without changing plates, plus the plates don't warp.
Place 3D Foam Strips on the back of the die-cut panel, ensuring you use enough so no parts of the panel sag. Pop this up on a slightly larger white slimline card.
Die-cut white cardstock with the Slimline Inside Circles Dies and blend the tops of each circle with Artic and Odyssey Color Fuse Inks. I used a blending brush, but a sponge will work as well. Splatter with some water for a fun textural effect. You can see the coloring well in this image.
Glue these flat inside of the circles on the card.
Place 3D Circles on the back of three of the bears and pop them up in the circles.
Glue two thin strips of white glitter paper on the card as shown.
Stamp the snowflake two times on white cardstock using Artic Color Fuse Ink and die-cut them using the coordinating die set.
Pop them up on the glitter paper using 3D Foam Circles.
Place a self-adhesive rhinestone in the center of each snowflake.
Stamp the sentiments from our Christmas Cheer Gnomes set on white cardstock using Odyssey Color Fuse Ink, trim them down and pop them up, one by each bear.
Rubbernecker here – so cute, so fast and honestly, great for batch making! Here's what you will want from the store to make this fabulous card: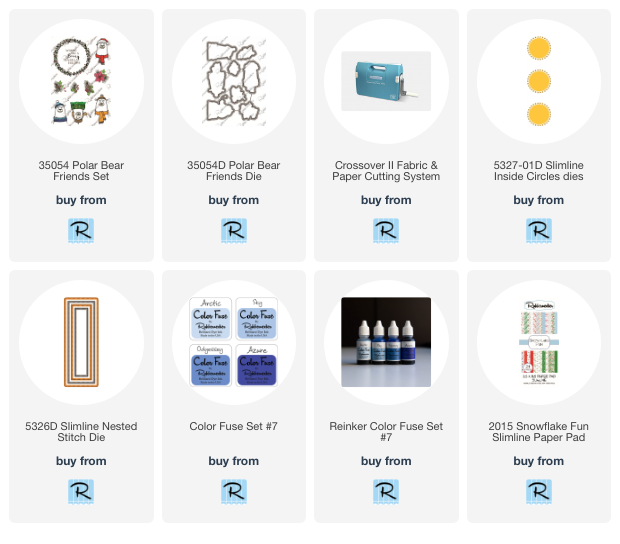 If sending some cute handmade slimline holiday cards is on your agenda this year, we suggest book marking this post because this card is such a winner!