Wait until you see all the details in this handmade die cut flip top window card!
Our eyeballs popped out like those cartoon characters when we saw this die cut flip top window card that Lisa made for us today! It is LOADED with adorable details and she even added a fun belly band to keep her magnificent window closed. And of course, being a member of our amazingly generous Design Team, Lisa has shared her how-tos with us so we all can make one too!
Start by cutting all the pieces for your window component. Make a mini slimline card base from a piece of white card stock cut to 7″ X 6″ and score the 7″ side at 3 ½". Center the second largest die from our Mini Slimline Tabbed Scallop Stitch set on one side of your card base and fix it in place with a few pieces of low tack tape.
Run this through your die cutting machine to create your window in the front of your card. Be sure to save the center die cut rectangles!
Now create the frame "sandwich" for the front. Take the largest die from our Mini Slimline Nested with Stitch set and use more of that low tack tape to place it on another piece of white card stock. Center the same scalloped die you used for your card front inside the outer die and tack in place and cut out with your die cutter. Cut TWO pieces of card stock using this arrangement.
While you are at it, cut another piece of white card stock with our Mini Slimline Window Cover die.
To assemble the window, adhere a piece of acetate cut to 3 ⅜" X 5 ⅞" to the inside of the INSIDE of your card front. Then adhere ONE of your frames with your tape runner to the inside to cover the edges where the acetate is adhered.
Adhere the Mini Slimline Window die cut to the OUTSIDE of the card front over the acetate.
Now take that second frame and adhere it over the card front with some dimensional adhesive.
Whew – check that window out! We are envisioning lots of ways to use this pretty element for other themes of cards, too!
On to the interior! Take one of the scalloped rectangles you got when cutting your frames and using our Clouds Stencil and shades of blue from Color Fuse Set #9, create a cloudy background. PRO TIP: Because Lisa knew she was using browner shades of orange for her detail elements, she chose the blue green shades for her clouds. Depending on what colors you use, you may want to use Color Fuse Set #7 or Set #8 for your clouds.
Lisa happened to have a die cut piece that matched the size of her cloud panel left over from a gel press session so she used that to cut some layers using our Southwest Hills dies. PRO TIP: When you cut a piece of detail paper with the same die for the piece you are layering these on to, you end up with perfectly matching edges for a seamless look.
Add your layers to the scene with both her tape runner and some dimensional adhesive. Adhere that cloudy background to a mat made with a coordinating shade of card stock and then adhere those to the inside of your card to make laying out your design easier with the window as a factor.
Now is a good time to cut some cacti and flowers and add them into your scene with a mix of adhesives to build the depth.
For the unsuspecting critters, stamp bunnies and mice from our Woodland Animals set, color them in with your favorite medium and cut them out with our coordinating dies. Go ahead and add them to the scene, too, scampering over their little landscape.
We just have to share that Lisa said "I thought nothing better for a bunch of cats to be staring at out the window than some bunnies and mice." So true!
For the details on the flip up window, stamp both lines of cats from our Cats Front and Back set, color them in, cut them out with our coordinating dies and adhere them back to back with your tape runner.
Adhere this line of avid spectators to the OUTSIDE of the card front, lined up so they are peeking over the sill to spy on their potential snacks.
For the window sill details, cut four window sills with our Window 4 Pane die from scraps of white card stock. Adhere two of these side by side below the cats on the front and back of your card front. Cut some scraps of patterned paper and/or card stock with our Small Flowers #1 and Leaves and Greenery dies and create some pretty flowers for forward facing cats on the inside of the flip top window.
Thanks to all the fabulous depth and dimension of this card, it needs a belly band to keep all its cuteness contained! To make this, simply cut a piece of coordinating paper or card stock long enough to wrap around the card with an extra inch or so to adhere it into a loop.
Cut a circle from a scrap of coordinating card stock. Stamp your choice of sentiment – Lisa chose a sassy one from the same stamp set – on a scrap of card stock, adhere over your circle and then use your paper snips to trim around the overhang. Add a few little flowers and a couple of gems on your sentiment circle and this card is ready to WOW the paws off someone special!
Here's what you will want to pull together to replicate this card: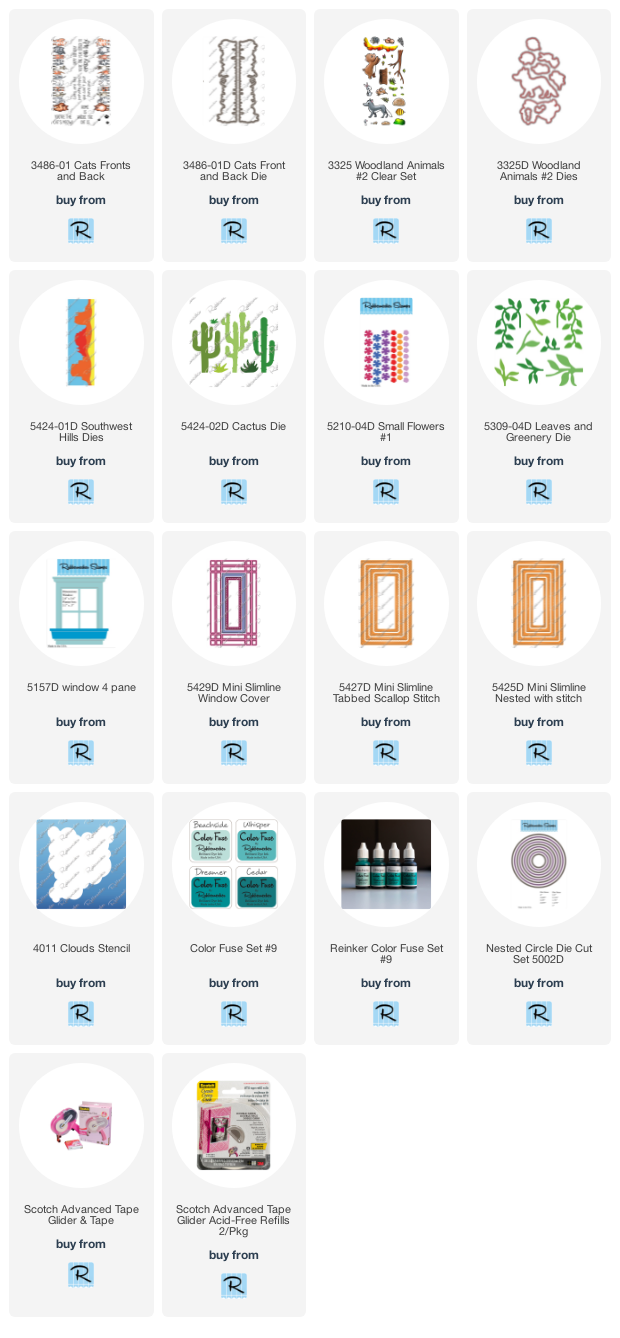 So you might have made mini slimline cards and you might have made window cards but we are betting that this die cut flip top window card with its adorable belly band might just be a design you haven't tried yet. With all of Lisa's detailed instructions we are also betting that this is on your "gotta try!" list. Right?