You will never look at your sun ray stencil the same way again when you see this cool technique!
We've shared lots of projects that use our Sun Burst stencil and it's one of our super popular products thanks to the fun details we added. Today, Melinda is taking using a sun ray stencil like ours up a HUGE notch with a very fun inking technique combined with a fabulous, multi-paned peekaboo look with a die cut frame.
Melinda says "I love the size of these cute pups, they are fun to color and easy to add more than one to a card." We particularly love how she's added the pups in their own little "spotlights". Are you ready to make this card? Let's go!
Begin by stamping the each of the dogs from our new and super popular Yoga Dogs stamp set. Melinda stamped two of each so she could test out color combinations – great idea! Color your peaceful puppers with your favorite markers – Melinda chose her Copics. When coloring remember, dog fur isn't "perfect" so you can add spots, ignore accidentally created spots, add shadows, and even add some texture using our Design Team's popular blending solution technique to add texture. PRO TIP: You can do this with some very careful application with watercolor markers and water, too.
Die cut your doggos with our coordinating Yoga Dogs die 3 ½" X 4 ¾"and set them aside. While you have your die cutting stuff out, cut a piece of white card stock with our Window with Pierce frame die and add it to your puppy pile.
Now cut a piece of white card stock to slightly larger than 3 ½" X 4 ¾". Using some low tack tape, set our Sun Burst Stencil over this panel and fix it in place by adding tape over the stencil AND the card stock, overlapping the tape on the card stock at the very edges. This will help keep both the panel and the sun ray stencil from shifting.
Using Lemon and Custard Color Fuse Ink from Set #1 and Mango from Set #2, apply the ink through this sun ray stencil to create a warm and glowy look. Do this by applying Lemon – the lightest of the shades – through all the rays. Now apply Custard ink from the edge of the sun about halfway down the rays. Last, add the Mango – the darkest shade, just around the edge of the sun to add that deep, hot look.
For a final detail, remove the sun ray stencil and take the applicator you used to apply the Mango Color Fuse and buff what's left on it in the sun area. This creates a cohesive look and keeps the "heat" in the rays.
Now you can trim this panel to 3 ½" X 4 ¾" to fit the frame. Set the frame die cut over this panel and lay out your flexible fur babies and the stamp for the sentiment you want to use to get your placement just so.
Remove all the die cuts and stamp your sentiment. Adhere your sunny showstopper to a card base and then adhered your die cut frame over the background. Now add your pups to the scene with your choice of flat and dimensional adhesive to give them a nama-"stay" command!
SO adorable!
If you want to make this same card – and you know you do! – grab these goodies from the store: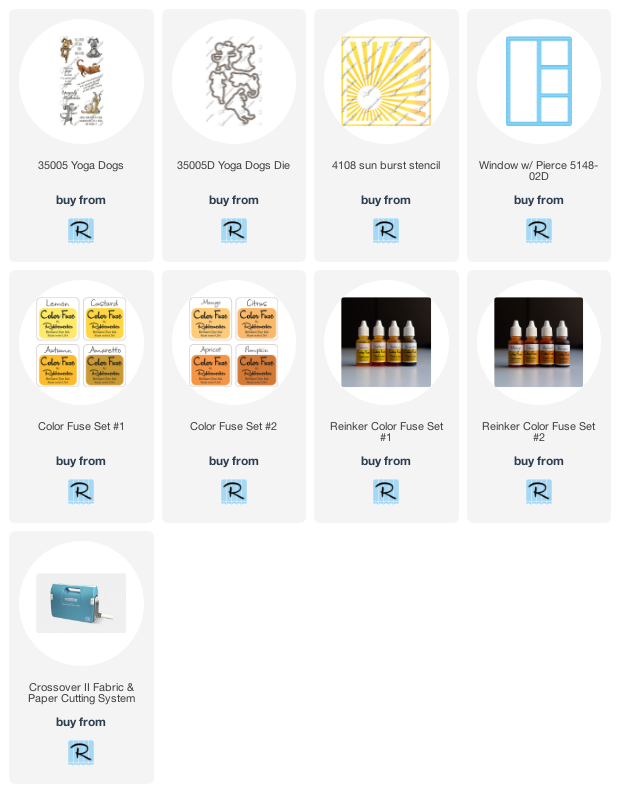 We adore the way the sun ray stencil effect carries over the whole card, crisply segmented by the little windows in the frame. It lets easy of these adorable contorted canines do their own thing and still be part of a sweet and sunny scene.