Give someone a case of the smilies with this adorable handmade faux Polaroid card!
Did you know that Polaroid cameras are back? They do say everything old is new again and the photos from the new cameras look almost identical to the ones from days gone by. It's no wonder then that two of our fabulous designers chose to use our new Group of Friends stamp to design their versions of a handmade faux Polaroid card.
Let's get Carol's instructions and try this card out for ourselves. Carol's sharing some awesome tips so read through and pick up some gems!
Start by stamping our Group of Friends onto white card stock with alcohol-friendly ink. Now, if you want to texturize the bear's fur as Carol did, color him first with your markers. PRO TIP: using a small rag – Carol used an old washcloth cut up into small pieces – put a few drops of Copic Colorless Blender Solution onto it and dab it over your bear, pausing for less than a second. You can always go back and dab some more. This will irregularly remove some of the Copic ink, creating a textured look.
Here's a pic of our fuzzy friend colored:
And here he is after his fur treatment:
If you want to blend the color a little more, when you are done dabbing and letting him dry, you can color over the bear with your lightest shade to help soften any spots and add color back in if too much got removed. What a COOL TIP!
Color in the rest of your friends.
Next, make your "Polaroid" frame. Using a little low tack tape to keep the straight edges perfectly aligned, position the largest die from our Nested Rectangle Small Stitch die on some white card stock. Place the next to smallest die from our Nested Square Stitch set inside. PRO TIP: test fit the sentiment you want to use by laying it down to make sure you have enough space! Place more low tack tape over both dies and run it through your machine.
To get that iconic Polaroid frame shape – with the side and top borders narrow and the bottom nice and wide – lay the same largest Nested Rectangle Small Stitch die over your frame to recut the top. Use some tape to keep things square!
Pat the area for your sentiment with you anti-static tool, stamp your sentiment with Versamark and heat emboss with black powder for a bold pop.
Trim your stamped panel to fit behind your Polaroid frame.
For that fabulous background, use shades of green markers – Carol used Copics G07, YG25, YG23 and YG13 for the leaves and E37 and E35 for the trunk. Just add little dabs of all the colors in a globe shape in the corner, going right up to the edge of the critter companions. Then sketch in your tree trunk with "longer" dabs. This random dabbing adds tons of texture and simple dimension.
When you are done with your tree color in your sky with very light blue shades – Carol used B00 and B000 – in the open space. You can see how these easy additions add so much visual impact to this sweet little scene.
If you are using patterned paper, trim your choice to card panel size and adhere to your card base with adhesive tape. Adhere your stamped panel to your card and then add your frame over that with some dimensional adhesive.
Absolutely adorable and guaranteed to elicit a big grin!
Here are the things you will want to add to your card to make this cute and fun card: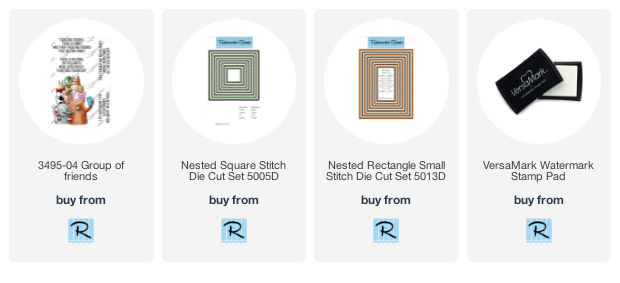 Both Lisa – whose card you can see here – and Carol used nested rectangle and square dies to create the iconic frame for their projects. This got us thinking that while this stamp set is practically made for this handmade faux Polaroid card, this design idea could be cute for so many other themes. Picture any cute little scene focused inside a Polaroid frame and see if that doesn't spark your creative inspiration!