Just look at the gorgeous details on this under the sea slimline card!
This under the sea slimline card positively POPS with color and those glossy details add so much! It's the perfect card to send to someone who you know need to know that you think they are super special. And it's so fun to put together – you might not want to stop at one!
Let's get all the details of the making of this card from its creator, Jean!
To start, shop your stash of colored card stock for the shades you love for the submarine, fish, and seaweed along with your background color to ensure that the colors coordinate and complement each other.
Here's your die cutting list. Use our Tropical Fish die set to cut colored, white, and black card stock. Use our Sea Animals die to cut some of the small fish from more colored card stock. With our Submarine Tabbed die, cut your choices of color for the ship and the details. Using our Sea Kelp and Seaweed/Coral dies, cut your choices of plant life from shades of green card stock. And last but not least, cut white card stock with our Slimline OPC Squares frame. Save those little squares – you can use them a zillion ways.
PRO TIP: When you cut your parts and pieces, it is VERY helpful to sort them into little piles of both which elements come from which die AND what color combos you've chosen. This way, when you go to put them together, you can look at the packaging or guide (in some of our more complicated die sets) and know what goes where. There's nothing more annoying than having a little part that you can't match up to a die cut creation!
Before you begin putting everything together, Jean shared an PRO TIP for adding even more visual impact to some details and it's so easy but so awesome!
To add incredible detail and textural interest, heat emboss some of your pieces with clear embossing powder to add a beautiful glossy look. Use a pair of tweezers to press your details pieces into a VersaMark ink pad and heat emboss with clear powder. Note: you may need/want to do this a couple of times on each piece for even coverage and additional depth of that shine.
Jean used this technique used on her fish stripes, fish fins, small fish, and submarine's glass windows.
Assembly time! Put your elements together with your favorite adhesive. Here Jean shared two PRO TIPS. First, use liquid glue to assemble your die cut elements; most liquid glue gives you a few seconds to wiggle, slide or otherwise adjust things to get them lined up perfectly. Second, to add those itty bitty eyes to your fish, poke out the eye of the fish body color (that sounds bad, doesn't it?), add a small piece of tape to the back of the fish, and drop in black card stock eye.
Cut a piece of your background card stock to 3″ X 8″. Lay your white die cut frame over your scene and choose where you want to stamp your sentiment and then stamp it with black ink. Now arrange your die cut elements over your background, letting a few things hang off the edges to add to that feeling of continuity in the scene.
Adhere your die cut creations to your card with adhesive tape and dimensional adhesive to add more depth and dimension. Trim any of those overhanging edges. Now you can adhered your white die cut frame over this masterpiece with some dimensional adhesive strips.

To finish this card, cut a piece of black card stock to 8 ⅜" X 3 ⅜" and adhere to the center of your slimline card base – Jean chose a deep teal to set off her scene. Pop your gorgeous die cut scene to the black panel and try not to swoon when you see what you've created!
Aren't those details just so dazzling? Aren't you just chomping at the bit to make one? Snap up these items and you can!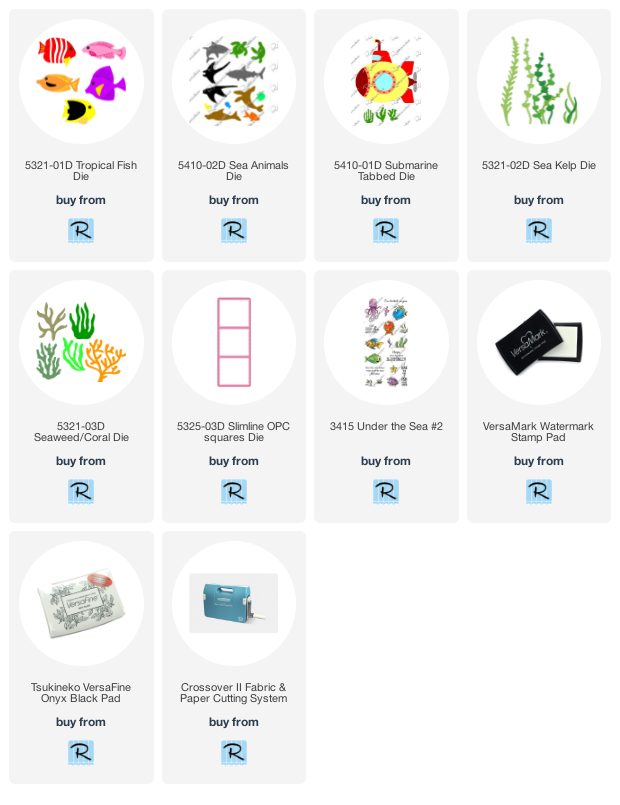 Here are a couple of other under the sea card ideas you might want to check out.
If you are as gaga over this under the sea slimline card as we are, you are in excellent company! We love the bright colors, the beautiful detailing and the amount of fun this card is to make is just a glorious bonus!