These creative handmade cards for friends have a cute retro twist that they will love!
Who here remembers the old style Polaroid photos? And shaking them to make them "develop faster"? Today's example of creative handmade cards for friends features that iconic element with an adorable twist. Lisa has used one of our new stamp sets and some clever die cutting to make a card that sets our selfie squad in the Southwest scene, spilling out of a classic Polaroid frame.
Let's get to making one ourselves!
First, make your Polaroid style frame. Arrange one of the dies from our Nested Rectangle Small Stitch set and one from our Nested Square set to create that instantly recognizable shape onto a piece of white card stock. You can run them through together, hold them in place with some low tack tape, or separately.
Now make a quick "gel press" background. Lisa made us a quick video tutorial for how to get some very cool inked backgrounds gel press style. Watch here and be prepared to be amazed!
SO fun, right? Use the largest die from that same Nested Rectangle Small Stitch set to cut one of your ink printed backgrounds. Take one of the other backgrounds and cut a few strips using our Southwest Hills dies.
Tape those together to make a multi-horizoned background. Use the same method shown here to cut the edges of your landscape background with the same die to match the die cut edges.
Now go ahead and adhere those layers to the card background. Start with the top layer and overlap the different horizons over each other for a dimensional look in the distance.
It's time to make the friends! Stamp them from our Group of Friends set, color them up with your favorite medium and then cut them out with your paper snips. To make adding them to the background easier, tuck them into the frame and add a little piece of tape to hold them in place. Now add some dimensional adhesive here and there on both the frame and the selfie squad and adhere them as one piece to your card front. Lisa added them at a playful angle to amp up the fun.
To introduce a little color variety and some additional thematic details, cut some cacti from green card stock using our Cactus Die and tuck them into the scene, adhering them with a variety of dimensional adhesive for depth and dimension.
For the sentiment, stamp your choice of greeting onto a scrap of white card stock and cut it out with the smallest die from the Nested Rectangle set and add to the bottom of the "Polaroid" with some thin foam tape.
Layer your panel onto a complementary colored piece of card stock cut to provide a whisker of a border and then pop the whole thing onto a card base.
Who wouldn't LOVE to receive this card? Here are the goodies Lisa used today on this card AND in that sweet little video she made for us: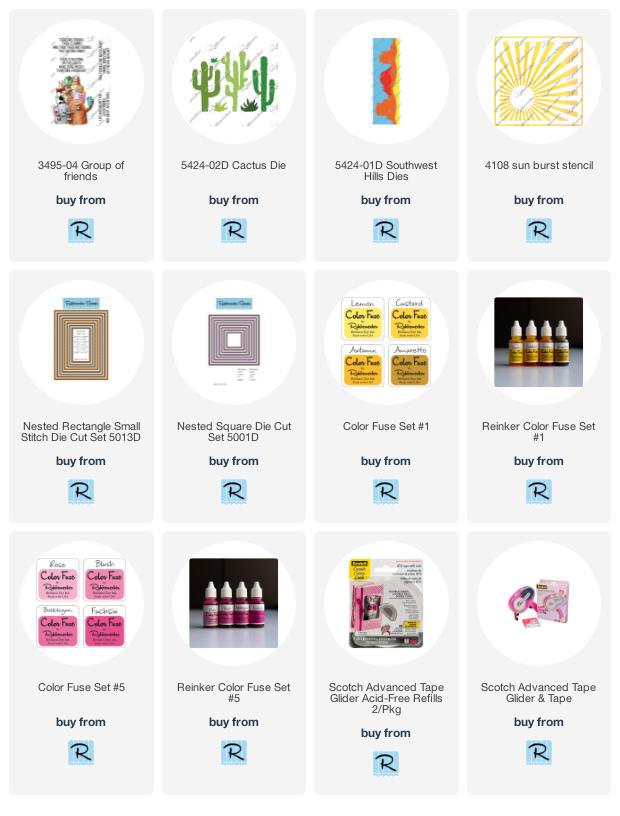 This fun idea for creative handmade cards for friends who will get the visual reference can, of course, be adapted to any theme or background. Just think of all the places people might want to get an instant selfie and bring it to live on a handmade greeting card!