Use a simple no line watercolor technique to create absolutely gorgeous "hand painted" cards!
Our Design Team – and now our customers – are LOVING this new Butterfly Flowers set and we are so glad! Today, Melinda has combined the main image from it with the no line watercolor technique to create a card that looks hand painted and just stunning. We've used this easier-than-it looks technique here on the blog before and we love that every project has its own look and style thanks to each designer's own artistry.
Melinda is sharing her methods and all the steps for using the no line watercolor technique with this stamp so let's get started!
Start by cutting a piece of watercolor paper to card panel size. Melinda preserved one of the natural edges on her panel for that organic look.
Stamp the image on the watercolor paper with a very light color of ink. Chill Color Fuse Ink from Set #12 is an excellent choice and has been used by our Design Team before. Grays are a great option because they won't compete with other colors you apply over them, as would, say, pinks or blues.
Using your favorite watercolor medium – Melinda used Color Bursts and water – paint out your segmented wing first. Let each application dry before layering to allow for that translucent look and use darker shades closer to the body of the butterfly to create the illusion of depth.
Now using a very light wash, color over your flowers in your chosen colors. When your initial soft, light layers are dry, go back in and add deeper or darker shades closer to the bases of the petals. PRO TIP: Do the REVERSE of this on the lily for a realistic look.
Continue layering your colors and more concentrated shades of colors until you've added all the depth and detail you want to your flowers.
To highlight your sentiment, wet an area under your painting and wash some color over it in roughly the same size as your greeting.
Let everything dry completely. Stamp your sentiment over your color washed spot – Melinda used VersaFine Clair ink. Use a white gel pen to add some dots on the black parts of the wings of the butterfly for some delicate details.
Adhere this panel to your card base and then pop on a few gems and – voila – you've got a "hand painted" card that is a knockout!
Here is the stamp set and Color Bursts from our store that Melinda used today: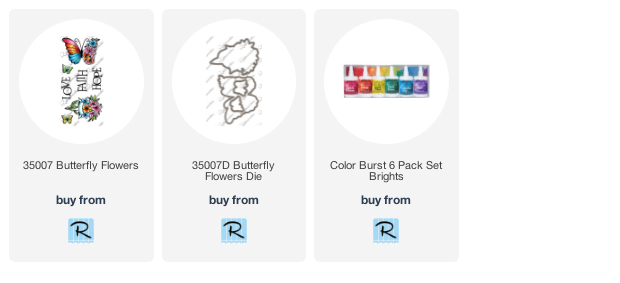 This no line watercolor technique will help anyone become a watercolor artist and if you haven't tried it yet, this stamp set is the PERFECT one to use for your maiden attempt!