Check out why using stencils with embossing paste is the perfect way to play up imperfections!
We've had so much positive feedback on our stencils and we are SO happy you all love them so much! One of the things we keep hearing is that you love using stencils with embossing paste to create beautifully textured backgrounds and elements. Today, Natasha has created this beautiful card for us and she is sharing why NOT making a stenciled embossing paste background "perfect" is the PERFECT way to show off even more of that delicious texture you can create.
Shall we dive in?

You will probably want to start with your background so you can let it dry while you create your focal elements. Take a piece of watercolor card stock a little larger than a card sized panel and after giving our Vertical Lines stencil a light application of Pixie Spray (or tape your stencil over your card stock), apply embossing paste through the stencil. Note that Natasha used this stencil in a horizontal position to keep the eye moving side to side. Here's where that "imperfection" concept really works – apply the paste here and there, randomly and not worrying about making it perfectly smooth on the surface.
Using this imperfect application creates lots of spots where the mind's eye will go, seeking that repeated pattern. When it doesn't see that pattern, it looks closer and that's when all those glorious details get revealed – different textures, colors, shadows……
When the embossing paste is dry, use your favorite watercolors to add beautiful layers of color, allowing each layer to dry so the colors don't muddy. Start with your lightest colors and add your richer, darker shades over them for lots of dimension.
Finish with some random "imperfect" swathes of gold watercolor for even more richness and to echo what you are going to do on your butterflies.
Speaking of butterflies, stamp the images from our new – and flying out the door on their own little wings! – Butterfly Flowers set with Versamark onto water color paper and heat emboss with gold powder.
Natasha likes to tape her paper down which is a great way to prevent any warping when using a "wet" medium to color. Color your butterflies with your favorite watercolor medium – Natasha used watercolor markers. Color in layers, allowing each layer to dry to keep that beautiful vibrancy and layering. Be sure to save your darkest colors for the deepest areas to add even more dimension and texture on these fanciful flying works of art.
When your butterflies are all colored in and completely dry, cut them out with the coordinating die. PRO TIP: When using watercolor paper – all paper, for that matter – be SURE your images are completely dry both front and back. Damp paper will not always cut crisply and unless you are going for that look, you want to make sure your paper is as dry as can be to get those sharp edges.
Trim your background panel to your chosen size and adhere to your card base with your tape runner.
Stamp your sentiment – Natasha used one from our Organic Set #1 – now in clear! – with Versamark onto a scrap strip of black card stock and heat emboss it with gold powder.
Trim closely to make a banner and adhere to your card with dimensional adhesive, lining it up with the edge of your stenciled panel.
Adhere your beautiful butterflies with more dimensional adhesive and try not to stop breathing when you see how gorgeous your card is!
Here are the items from our store that Natasha used today – as of this writing there are just 27 of this new set left so get on over there and snag yours before we have to reorder!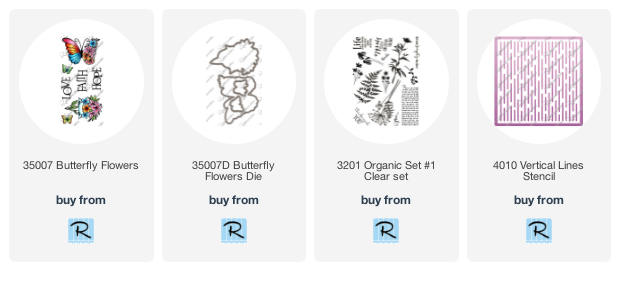 Hopefully, this project will make you feel more confident using stencils with embossing paste since it's perfectly clear from this project that imperfections from this application can actually be PLUSES!