These Happy Birthday cards with cows are so cute and sweet and really fun to make!
For people who love these gentle creatures, Happy Birthday cards with cows – well, a cow and bull! – are a cute way to send them a handmade card that will speak to their hearts. Plus, using our Barn Die set, you can have a fun little assembly session, adding all your little custom elements to your barn so easily. We have to thank for this darling project – let's get her how-tos so we can play, too!

First, using our Farm Animals die set, cut one cow and one bull from two different shades of brown card stock. Place little scraps of brushed silver for the nose ring, brushed gold for the bell and red for the collar over the spots on the die and cut them out.
With liquid glue, add the red collar and gold bell to the cow and the nose ring to the bull. Adhere little scraps of black behind both bovines' nostrils. Jean very cleverly used the little "dots" die from our Submarine set for the black eyes on her friendly creatures; you can also use the punchies from a tiny hole punch or shop your own die collection for little tiny circles.
Using our Slimline Grass set, cut a field from green card stock. Then using red, white and gray card stock, cut all the parts and pieces to build your bar. Assemble using liquid glue to give you a little wiggle time to get all your details lined up just so.
Using another smart tip, Jean used a standard card sized frame to lay over her rough cut set up and arranged her elements without adhesive, placing her greeting to make sure she loved what would be her final result. Try this out if you have challenges getting everything lined up before adhering things down.
Stamp the sentiment from our Birthday Vase sentiment in VersaFine Onyx Black ink on the light blue card stock panel.
Now cut a frame with the largest die from our Outside Scallop Frame set from white card stock. While you are at it, cut our Peak Fence #4 from white card stock twice. Overlap the two fence pieces by one "picket" and adhere together so they can span the frame.
Trim your grass to 5 ⅛" wide X about 1″ tall and adhered to the BACK of the white die cut frame. Now adhered your fence over the grass on the back letting about ⅝" of the grass overlapping the bottom of the fence, trimming any excess fencing on the sides.
Take your light blue stamped panel and trim it to fit inside the frame; adhere behind the grass and fence. Add your barn with some dimensional adhesive and your friendly farm fellows with a double thickness of the same dimensional adhesive to build some depth.

Now for the adorable details, cut a sun from yellow card stock with our Sun Moon die and a puffy little cloud from a scrap of white card stock with our Clouds die. Tuck the sun slightly behind the barn roof and then add the little cloud slightly over the sun with some dimensional adhesive. Using our Small Flowers #3 die, cut some flowers from scraps of yellow card stock and shape slightly with a stylus from our (awesome) Paper Blossom Tool Kit. Add some tiny white crystal or Nuvo drops to the centers and when dry adhere over the fence with little dabs of liquid glue.
Layer your assembly over a soft yellow card base and this card is ready to go!

Is this not one of the sweetest Happy Birthday cards with cows you've seen? Here are the goodies Jean used today: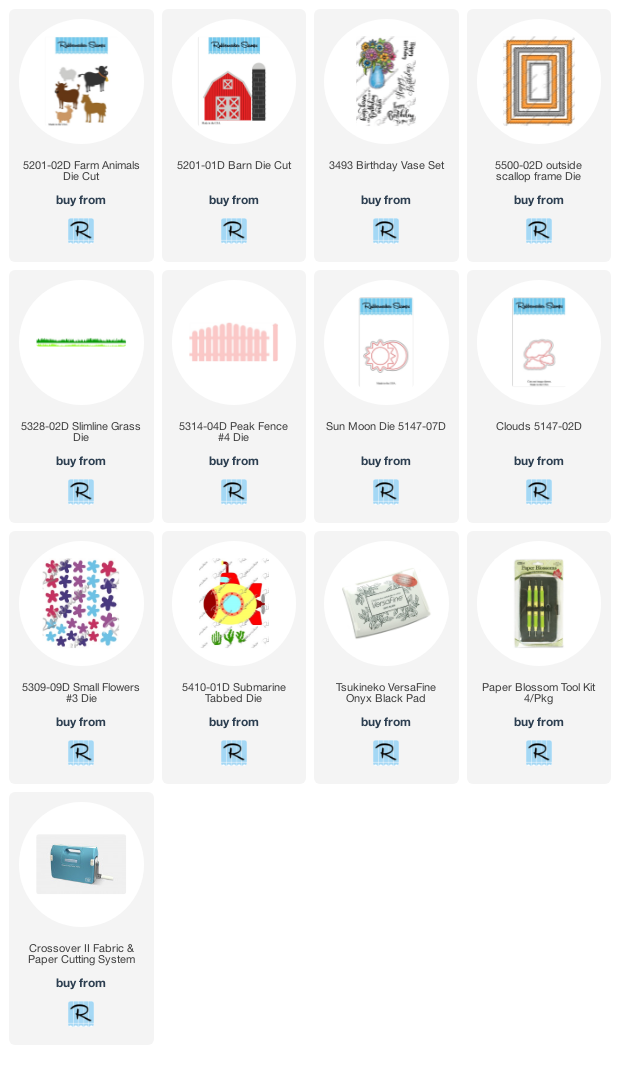 We get such a kick out of being able to provide products that let you all make the perfect cards for your friends and family members, no matter what they love! This idea for Happy Birthday cards with cows (and/or bulls, or both!) is a great example and we simply adore it!