Use masking and ink blending to create vibrant and FUN yoga cats greeting cards to send the zen to your friends!
We love funny – anything that brings an unexpected smile to someone's face is always a win in our book. And we are apparently bopping the funny bone on the head with these stamps to make yoga cats greeting cards of all types.
Today, Carol has created this absolutely gorgeous, vibrant slimline card with so many fun little details and we couldn't WAIT to share it with you. You have no idea how hard it is for us to hold back when we are waiting for all the new goodies to get stocked!
Carol used masking and a bunch of our Color Fuse Inks to create this card with a beautiful, expertly blended rainbow as the setting. Rainbows seem to be a theme these days and we love it!
Let's get started!
Start by die cutting white card stock three times using our Slimline OPC Squares die saving one set of the squares. Adhere all three frames together with liquid glue and then adhered them to your white slimline card base. Set aside to dry thoroughly.
Now line up your squares in your stamp positioner and then line up your Yoga Cats on the squares. NOTE: Placing the cat in the Upward Dog – or should we say "Upward Cat" – pose in the center square allows you to have space for your sentiment. When all your stamps are lined up, close your positioner to pick up the stamps and then stamp in black ink.
Remove your stamped squares and replace them with some masking paper or post-it notes. Stamp again.
Die cut your masks. NOTE: Often times masking paper and even post-it notes won't cut evenly on their own. Placing them onto a piece of scrap card stock and then cutting can help get crisper lines. You can, of course, also fussy cut them.
Flip your squares over, lined up as you intend to use them from top to bottom. Adhered some removable tape over the seams to keep all three together as one piece. Flip them back over and adhere your masks over your yoga cats. Also add a strip of low tack masking paper or tape over the greeting. NOTE: If you are concerned about this piece damaging your stamped square, apply it to your clothing a couple of times to make it a lot less sticky!
Carol chose her colors for her rainbow and then tested them out on a scrap strip of card stock – she says this also helps you remember what comes next. GREAT tip!
Carol chose Posey, Lemon, Moss, Sonata, and Lavender Color Fuse inks and using her favorite blender brushes, she buffed the ink over her squares, gently blending along each "meet" line for a seamless look. This is one of the distinct advantages we "baked in" to our Color Fuse Ink. The ability for inks to blend – not just color wise! – is crucial to a beautiful finish and we drove our formulators nuts with making sure these were just right!
Now brace yourself! Remove the masking paper for the fun reveal! Isn't that just fabulous?
As beautiful and crisp as those yoga cats look, you can level them up by adding some shadows with some gray markers. Carol used Copics in C3, C1, and C00.
Now go ahead and adhered your squares into the appropriate openings with your tape runner. For a little more of a pop, you can stamp your greeting onto a scrap of white card stock, trim it into tidy rectangle and then adhere it with dimensional adhesive right over the stamped sentiment on the square.
We can see making a stack of these yoga cats greeting cards to have on hand for when we want something that is certain to create some big grins! Here are all the "ingredients" from the store: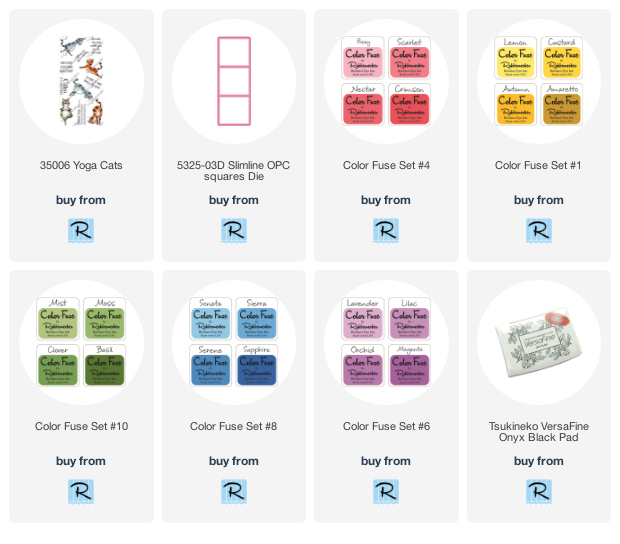 There you have them – yoga cats greeting cards with lots of color, dimension and plenty of laughs!