Make a handmade unicorn farting rainbows card that will have everyone cracking up!
You've probably, at some point, seen something about how unicorns can apparently fart rainbows and this handmade unicorn farting rainbows card from Preeti is no "Ew?" and ALL "AH!". It's so absolutely adorable and so colorful – it's a card we know will cheer up just about anyone.
Preeti's made a great video for us showing the making of this project so grab your coffee or tea or chai and give yourself a little inspiration break.
Preeti has added so many adorable details! First we have to talk about that fabulous custom colored rainbow, right? Using those circle die cuts to make the arcs is sheer genius! And if you didn't want to hand color them, you could just shop your stash of card stock scraps and put it together that way.
Then, all the different degrees of sparkle and shimmer using different methods! We are SO applying combinations like this to our other projects. The silver glitter card stock for the clouds, the metallic sheen of the gold stars, the divine shimmer on the, um, unicorn's own rainbow and then everything pulled together with the gems…..it all just looks so gorgeous together!
And of course Preeti's expert coloring – she adds so much dimension and detail! One thing you all should know – beginners to experts – the more you color the better you get so don't be discouraged if at first, you don't get the same results. Keep coloring and you will learn what your own pressure and motion creates and you WILL absolutely LOVE what you create. Pinky swear!
Here are the items Preeti used today – grab 'em up and start making your own versions of this fun and funny project: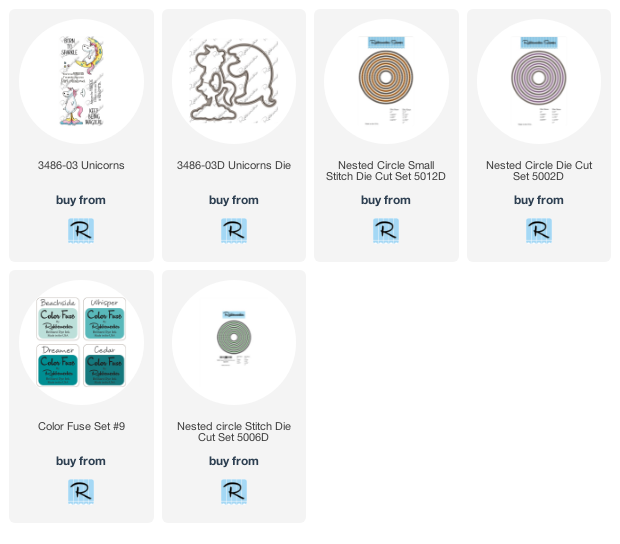 So even if you didn't know that a handmade unicorn farting rainbows card was or could even be such a thing, now you do and you can see why this motif has become popular. Fun, funny and sweet – the perfect combo!