Learn the easiest way for how to alter a die cut to match a layer for seamless edges!
Thanks to our talented Design Team, we learn lots of cool tips and tricks and "professional grade" ways to make our handmade cards level up to little works of art. One of the things that we see them to a lot is make sure that when they use overlapping die cut elements, the edges line up just so. Today, Allison is sharing her easy top for how to alter a die cut to match a layer for that seamless look.
For this charming mini slimline card, Allie started by choosing a pretty springy patterned paper and a complementary deep peach card stock. She cut her peach card stock to just a whisker smaller than her mini slimline card base and adhered it with her tape runner.
Next, Allie used the largest die in our Mini Slimline Tabbed Scallop Stitch set and cut a piece of white card stock. She cut her patterned paper with the next size down. Using her tape runner, Annie centered the patterned piece on the white and adhered them together.
Now, for a perfectly coordinating element for her sentiment, Allie used the next size down die to cut a piece of white card stock. She held this over her layers, lining it up to decide how far down she wanted it to show and then lightly marked where she wanted to trim it off.
Here's where she used this quick how to alter a die cut to match a layer tip. She laid her to-be-trimmed die cut on her cutting plate and lined up the edge of the largest die over the mark. PRO TIP: Use some old icky washi tape or masking tape to keep the die squared over the die for a perfectly straight line. She ran the die cut through her machine a second time.
Now Allie had a match of the overlap of the die cut element and the die cut element that, while a very small detail, causes the eye to see everything cohesively, adding to the beauty of the card.
You can use this quick and easy but very impactful tip when you want to have elements with edges that blend into your die cut layers. You can do this with belly bands, sentiment strips, other die cut details like fences, grass or hills……. the applications are endless, limited only by your imagination.
Allie added this to her card using dimensional adhesive, tucking a scrap of the same peach card stock cut with a banner end under the bottom before sticking it down.
Allie stamped the images from our Spring Bike set and colored the bike in with her markers. She showed off some serious fussy cutting skills to cut out both the bike and around the sentiment with her paper snips.
She added both of these to her card with more dimensional adhesive and finished the card off with a small button on her sentiment element, a sweet twine bow and just a couple of bright peach Nuvo drops.
Here is the die set Allie used today – don't forget that never-before seen stamp set snuck in to the warehouse!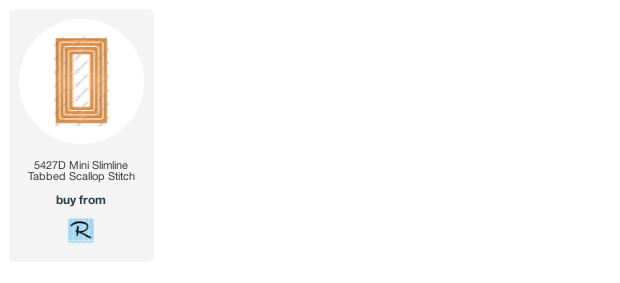 OK – now you know how to alter a die cut to match a layer to give you that seamless finish, we have a question. What die set are you trying out first?