See how easy it is to use die cut paper piecing for cards to bring your ideas to life!
Something you will see often from our fabulous Design Team is their use of die cut paper piecing for cards of all kinds. We have LOADS of dies where we've added amazing details for you to paper piece into your die cut elements which adds so much detail.
Today's card from Jean shows off how to use paper piecing to add color details to her main elements. Let's check out how she did this so we can give it a try!
First, when you are working with a die that gives you tons of details, be sure to look the die up on our website. For our more detailed designs, we often add a little guide showing you what parts go where. For instance, our Train Die looks like just a whole pile of random shapes but we've got a lettered illustration that shows you how to assemble them all into one of our most popular detailed dies.
Second, think about what colors you'd like your different parts of each die cut element to be and browse your stash of scraps for material. Since many of the details on the die cuts will be small – that's what makes them look so great when they are assembled! – you can use those smaller pieces of card stock and paper you've been saving!
Jean did some die cut paper piecing on this card with our Set of Dogs die set, our Cart set and our Cart Accessories #1 set. She started with her adorable pupper, cutting scraps of black, white and gray card stock to get three sets of all the die cuts. She assembled her little canine cutie with liquid glue because it gave her time to wiggle the pieces just so. BONUS! Because she cut all the pieces from all three colors, she could now mix and match and get three precious pups for three different projects.
Jean repeated this cutting different colors with the Cart die using white, green, light gray, and black card stock scraps and put them together with the same glue.
She used our Spring Tree Die to cut green and brown woodgrain-textured card stock for her background adhering the boughs to the trunks with a dot of glue.
To build the background, Jean started by stamping her sentiment from our Kittie Says Springtime set across the top of a card sized white card stock panel in black ink. She then placed a vellum strip across the card about halfway between the bottom of the sentiment and the bottom of the card.
Using a soft ink applicator, Jean buffed some blue ink up from the vellum edge, fading out at the top. She reversed the vellum strip, placing it over her blue ink and lining up the edge of the vellum with the edge of the ink. Jean then buffed a brown ink downward, fading out at the bottom.
This easy technique adds beautiful grounding for your scene and helps keep the eye centered on your focal elements.
Once she had her scene laid out and could see where all the colors she'd used so far would be, Jean chose colors for all her elements in the Card Accessories die, picked the scraps, cut everything out and put them all together with that same handy liquid glue.
Now for the fun part! Jean adhered her trees in the background, adding them so the base of their trunks was below the horizon line to add the sense of distance. She added her cart to the foreground with dimensional adhesive and added the little wheel with an extra layer of that adhesive for some perspective and realistic depth. She then filled her little cart with all the accessories, using varying thicknesses of dimensional adhesive to continue to illusion of distance and perspective. Last, she added her furry friend and this adorable card was ready to go!
Here are the goodies from the store that Jean used today: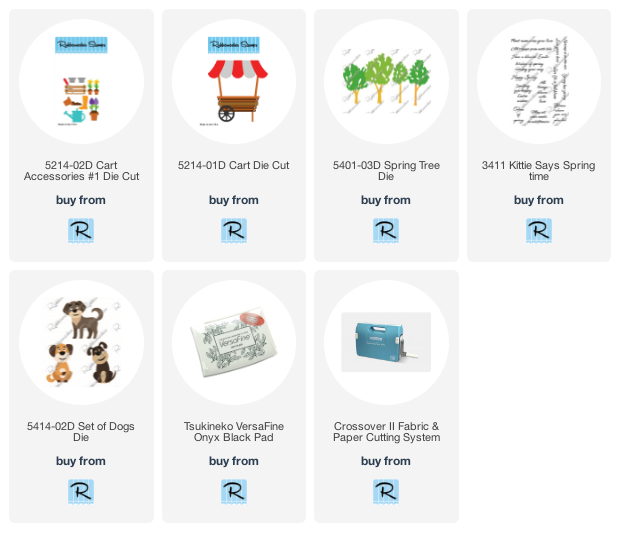 Using this easy technique of die cut paper piecing for cards of all sorts lets you really bring some realistic touches, details and accents to simple card stock shapes and the possibilities are only limited by your creative vision!